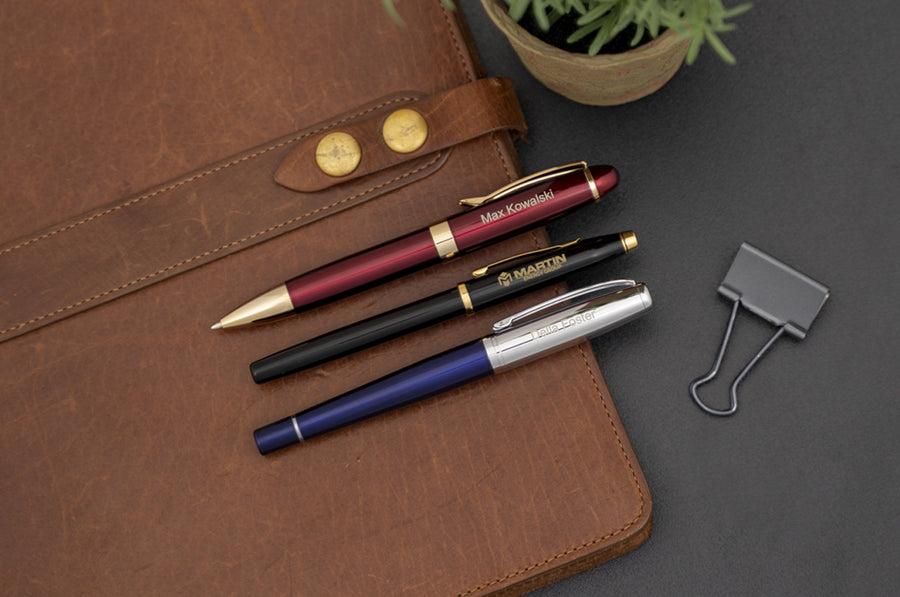 What's the difference?
Whereas engraving permanently cuts into the barrel finish and alters the product, imprinting lays ink on the barrel surface. The major difference is that imprinting allows you to create a design with full color options on any number of Cross pens.
General Information
Using an imprint image reproduction process, we will recreate your company trademark or symbol on a writing instrument in one or multiple colors of your choice. Extremely accurate design and color reproduction is possible. Standard imprint colors are listed below. A PMS color match fee will be charged for other requested colors. The best way to go about an imprint decoration is to contact us directly for a quote. You can expect to receive an imprint order 10 - 15 business days after final payment and art approval.
Corporate Clients
Imprint Ordering Information
Pricing

 

Product Imprint

 

Gift Box Imprinting

 

Minimum Order

24

24

Tooling Charge

$80.00*

$80.00*

Decoration price, Cross (first location included)

$5.50

$3.00

Each additional color (per color)

Over 1 - $0.70

Over 1 - $0.70

Each additional imprint, Cross

$5.50

$3.00

Color paper proof - new artwork only

-

-

Less-than-minimum-fee

$100.00

$100.00

Gift box/box sleeve imprint, Cross

Includes one color

$3.00

*One-color imprint only. Multi-color imprints will incur an additional charge.