The 6 Best Parker Pens: #1 Is Super Affordable! (2023)
The 6 Best Parker Pens: #1 Is Super Affordable! (2023)
Even in our modern digital age, a beautifully crafted pen is a highly desirable tool.
Electronic devices might have made direct communication easier, but there's a joy and pleasure that comes with jotting down a few words in your diary or journal. 
How would that be possible, without a high-quality pen by your side?
And right by your side is Parker Pens.
Creating top-quality pens for over 130 years, Parker Pens has established itself as a reliable brand that caters to all writing styles. 
No company does it quite like Parker Pens when it comes to quality craftsmanship. 
Here's why the brand stands out:
High reliability
Excellent quality
Durability
Affordable price range
Adoption to different writing instruments
Our collection of personalized Parker rollerball pens, Parker fountain pens, and Parker ballpoint pens are perfect writing tools for both adults and kids.
Now, the question is, how do you select the right Parker pens for your writing needs? 
That's what this guide is all about — helping you select pens that match your style and offer you a unique writing experience.
What are the Different Types of Parker Pens?
Expertise and innovation are demonstrated in every aspect of Parker Pen factory products. But that doesn't mean every Parker pen you come across best suits your needs or matches your style.
Parker pens are available in the following categories:
Fountain pens
Rollerball pens
Ballpoint pens
Fountain Pens
A fountain pen from Parker Pens offers the ultimate choice in writing elegance, style, and sophistication. Every detail is meticulously crafted and carefully designed, ensuring you get the finest writing experience available. 
A fountain pen features a nib that allows for customization to best fit your writing style. 
They use water based inks and offer a wide selection of ink colors. The quick-drying ink glides effortlessly on the paper, creating smooth lines. 
You're guaranteed to have your writing looking its best.
What more could you want from your Parker fountain pen? 
Fountain pens are perfect for anyone looking for:
Better ink control
A luxurious and expressive writing experience
Extended maintenance
The
Parker IM fountain pen
is an ideal choice for
incredible performance
. 
Fountain pen refills are available in refillable converters, ink bottles, and replaceable cartridges. 
Don't forget to personalize your Parker fountain pen, once you have it!
Ballpoint Parker Pens
Parker IM Black Gold Retractable Ballpoint Pen
Parker ballpoints are crafted with skill and expertise for convenience and everyday use. 
They highlight the consistency of quality in a luxury pen. 
Ballpoints contain Parker's Quink ink, which leaves a smooth feel and clear lines. Moreover, users get to enjoy the convenience of a clock-top or twist-action. 
Unlike fountain pens, ballpoints have a simple yet practical design for easier maintenance. They also use less ink and last longer. 
Choose a ballpoint if you're looking for:
Ease of use
Low maintenance
Disposable refills
Plus, with a free personalized engraving, the
Parker IM Ballpoint Pen
is a great choice for a gift.
Rollerball Pens

Parker IM Black Gold Rollerball Pen
Parker rollerball pens feature a small ball in the nib, which directs the ink as the pen moves on paper. 
They contain Parker's Quink ink and provide the same level of smoothness as a fountain pen, while also guaranteeing the constant ink flow and reliability of a ballpoint pen. 
As with fountain pens, rollerballs have a wide range of color selections. However, keep in mind that the ink can cause bleeding and feathering issues with certain writing materials. 
They are available in fine point and medium. 
Choose a rollerball if you're looking for:
Ease of flow 
Ease of writing
Disposable refills
Consistent and neat handwriting
From the affordable
Parker IM Rollerball Pen
to the opulent
Parker Premier Rollerball
, you can expect a
comfortable writing experience
with this pen style. 
Choosing the Perfect Parker Pen For You: What to Consider
Writing Quality
The choice of a Parker fountain pen is perfect for the smoothest writing experience possible, and you can customize nib sizes to fit your style.
Unlike a fountain pen, ballpoints use oil-based inks that last longer than their water-based counterparts. It's not uncommon for ink to get on your hands or paper, however, as it can accumulate at the tip of your pen.
A rollerball pen uses water-based ink which flows easily and quickly — that means an effortlessly smooth writing experience for you. 
Choose a Parker pen that suits your writing characteristics and preferences.
What's the Best Parker Pen?: The Top 6
Parker pens offer different pen styles with several collections of beautifully crafted pens. 
Here are the best Parker pen collections to choose from:
1.) Parker Jotter
Image from:
parkercollection.com
These pens feature a slim, all-metal construction that makes them durable and easy to use. Fun and practical, Parker Jotter Pens are perfect for anyone who needs a stylish pen on the go. 
Parker Jotters have been incredible popular pens for decades, and they're featured in hundreds of films. In the video below, Michael tells you a little bit more about why they're so popular:
They're also MASSIVELY affordable personalized pens, starting around $21.
They come in a variety of finishes and are available in fountain pens, rollerballs, and ballpoints.
2.) Parker IM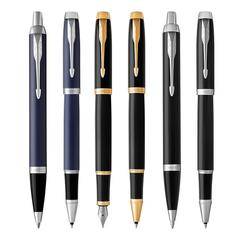 Parker IM
These pens feature a push-button mechanism that allows for smooth, one-handed action. 
They focus on comfort and high-performance functionality to deliver a dependable writing experience. 
A Parker IM is a versatile affordable pen, and is available in a variety of finishes and colors. Pens in this collection are a great option for daily use, especially for professionals. 
Pen writing types include fountain pens, rollerball pens, and ballpoints.

TRY THE PARKER IM TODAY!
3.) Parker Urban

Image from: parkercollection.com
The Parker Urban have a bold and unique shape that represents a new generation of the company's designs. 
They offer smoother, cleaner, and more consistent writing — perfect if you're looking for a more personalized design.
Available in fountain pens (with a stainless-steel nib), ballpoints, and rollerball pens.
4.) Parker Sonnet

Image from: parkercollection.com
Engineered for precision, the Parker Sonnet offers refined style and tasteful detailing. 
Fountain pens in this range feature premium finishes and 18-carat gold trims. They are also available in an array of nib sizes. 
If you're looking for a writing tool with beauty, refinement, and craftsmanship, choose from this collection.
5.) Parker Duofold

Image from: parkercollection.com
Looking for a pen that meets your fine writing needs? The Parker Duofold fountain pen has got you covered. 
Duofold has been a symbol of Parker's excellence and heritage since 1921. It features superior craftsmanship, offering an exceptionally comfortable and luxurious writing experience. 
All fountain pens feature an intricately engraved 18-carat gold nib with classic black finishes. 
It's also available in rollerball pens and ballpoints.
6.) Parker Premier
The Parker Premier Collection combines a simple silhouette with advanced technology, providing precision, comfort, and an exclusively fine writing experience. 
It's perfect for you if you're seeking a prestigious and luxurious writing instrument.
A fountain pen in this range features a classic finish with a 23-carat gold trim, and comes with ink cartridges and converters. 
Writing types are also available in rollerball pens and ballpoints.
How Much Does a Parker Pen Cost?
The cost of entry-level Parker fountain pens like the Parker Sonnet fountain pen and Parker IM fountain pen ranges from the mid-$100 range, while fountain pens like the Parker Duofold Lucky Curve and the Parker Premier fountain pen can cost up to hundreds of dollars. 
Ballpoint and rollerball pens in the Parker Jotter and Parker IM Range cost much less — only tens of dollars — while the Parker Premier Range for these two pen styles starts at $279. 
Every pen from Parker Pens is highly reliable. It's important to find the perfect fountain pen, rollerball pen, or ballpoint that fits your needs and also fits within your budget.
Get the Perfect Parker Pen for Your Writing Style Today!
Imagine living in a world where you aren't able to take a break from digital media. 
You can't grab your personalized journal to express your thoughts and feelings in a creative way. It's all typing, typing, typing… both at work and at home.
What kind of world would that be?
Writing isn't just a hobby — it's an important aspect of everyday communication. 
The world of luxury pens may seem daunting at first, but making your choice based on your budget and style can make everything easier. 
In the end, whether you're in search of a rollerball, a ballpoint, or a fountain pen, Parker pens will bring many years of enjoyment.
At Dayspring Pens, we have a wide range of Parker pen-style finishes and writing styles to suit any occasion, as well as free custom engraving for your personalized message, name, or corporate logo. 
Your search for the perfect Parker pen doesn't have to be complicated anymore. 
Check out these reviews: 

Parker IM Fountain Pen

Parker IM Black Gold Rollerball Pen
We offer free custom engraving for your personalized message, name, or corporate logo.
Featured image: WikiMedia
Sam DiNardo

Sam Di Nardo is the Lead Blogger at Dayspring Pens where she has become an expert in all things ballpoint, rollerball, and fountain pen. Her current fountain pen favorite is the Franklin Cristoph Model 20 Marietta. She lives in Virginia with her husband and their growing family. Learn more about Sam's Bio.