Luxury Pen Gifts Buyers Guide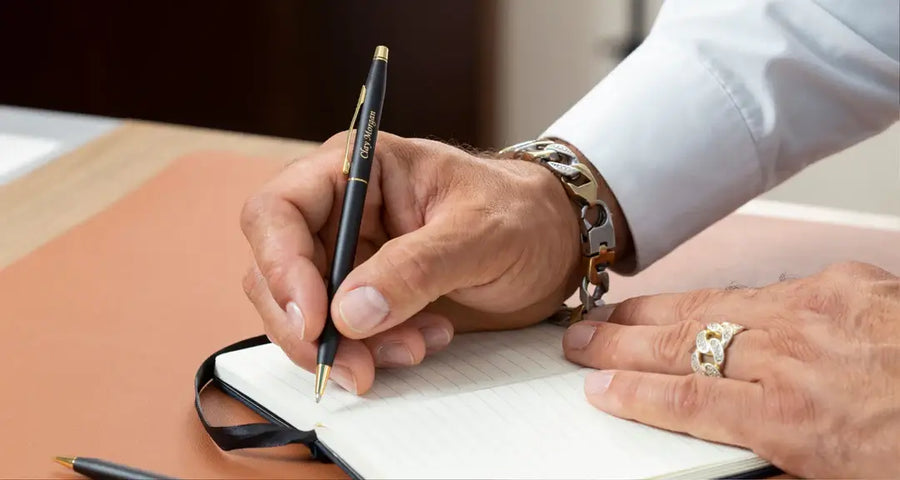 Luxury Pen Gifts Buyers Guide
Have a favorite go-to pen style, but looking to venture into the world of fancy pens?
The luxury pen world can be daunting when you see the prices, lists of precious metals, and unusual words like 'appointments', but don't stress!
Buying fancy pens can feel like entering a whole other world, but it's actually quite simple. I'm going to break it down for you; easily done.
We'll start with a comparative guide between your favorite, standard classic pen versus name-brand alternatives. Namely,
Finally, we'll jump over to an explanation of five things to consider when buying the best luxury pen for you. Such as:
Materials
Price Point
Uniqueness
Additional Services
So, let's get jotting ...
Popular Pens vs Better & Best Pens
Each 'Standard Classic' pen listed below has a 'Better' $20-$100 choice and a 'Best' $100-$500 choice, so you can choose what's best for your hip pocket.
Standard Classic: Pilot G-2 Pens
A truly beloved everyday pen, the Pilot G-2 is an incredible, entry-level pen that demands loyalty through its smooth flow, fine point, and reliability.
That being said, it's not necessarily the kind of pen you would give as a special anniversary gift or show off in a boardroom meeting.
Here are some of our Dayspring Pens offerings that rival the Pilot G-2 and won't disappoint.
⭐

⭐

⭐  

Better Choice - Parker Jotter Gel Pens

Price range: $30 to $50
A Dayspring Pens staff and my personal favorite, the Parker Jotter Gel Pen has been in continuous production by Parker since 1954 for a reason.
It shares about the same size, width, and weight as the G-2.
All metal construction means it can take the beating of a daily user that gets dropped, crushed in the bottom of a bag, and all the wear and tear of daily use.
A firm click mechanism also makes the Jotter super satisfying to click. It's perfect as an office gift and Valentines Day gift alike.
🟢 Pros:
0.55mm tip for those looking for fine writing line
unbroken, fast drying gel ink line when writing
light weight durable build
affordable price with engraving included
slim barrel size
easy to replace refill
two-year Parker mechanical warranty
🔴 Cons:
no ergonomic rubber grip like the G-2
nothing else really...it's a pretty dang great pen...I'm biased
⭐

⭐

⭐

⭐  

Best Choice - Cross Century II Rollerball Pens

Price range: $220 to $450
The Cross Century II Rollerball pens are unquestionably, truly luxurious pens.
The preferred pen of the Obama Administration, the Century II offers the reliability of a professional grade gel pen in a durable body, with a high quality finish, and precious 23 karat metal appointments.
It's worth making special mention of how this pen feels in my hand as I write. The balance is exceptional! The weight of the pen is spread evenly across the barrel, and the wider girth fits comfortably in the first web space of my hand.
🟢 Pros:
medium point
steady ink flow
durable body
available with high-gloss lacquers or premium metal finishes
lifetime Cross mechanical warranty
🔴 Cons:
fancy pens have fancy prices…
losing this pen will be stressful
Standard Classic: Zebra F-301
Known for its distinguished look and stainless steel body, the Zebra F-301 is a popular go-to choice for writers and students alike with its just-right barrel size, durability, and firm plastic grip.
However, are there better options for you? Yes.
⭐

⭐

⭐  

Better Choice - Braxton Ballpoint Pens

Price range: $20 to $40
If what you are looking for most in a pen is uninterrupted ink flow and easy writing, the Braxton Ballpoint takes those principles and adds a little flair.
A medium-fine point, the Braxton offers quick drying that doesn't bleed across the page.
The pen has all metal construction and 18 karat gold plated finish.
Ink can easily be refilled.
It also automatically comes as a set with a matching Braxton capped rollerball.
Expect a more medium barreled pen compared to the slimmer barrel of the Zebra and twist instead of click action to release the writing point.
🟢 Pros:
uninterrupted ink flow
comes in set with a Rollerball
medium barrel size
medium fine point
all metal construction
🔴 Cons:
no finer point available
capped rollerball
⭐

⭐

⭐

⭐  

Best Choice - Cross Tech3+ Pens

Price range: $100 to $130

 
The Cross Tech3+ is a huge step up with its technical engineering and professional design.
A multifunctional pen, the Cross Tech3+ holds two ballpoints (one black ink, one red ink), a mechanical pencil, and a screen stylus all in about the same sized diameter as the Zebra.
Twisting the barrel releases the various pen colors and the Cross ballpoint design leaves a clear, fine line that works well on all paper types from high gloss to notebook paper.
With durable all metal construction, the Tech3+ isn't so fancy you're afraid to use it, but looks a heck of a lot better in an important meeting than pulling out the Zebra.
🟢 Pros:
two ballpoints and a mechanical pencil in one
oily smooth ink flow that doesn't skip
medium-fine point
variety of quality lacquer finishes
lifetime Cross mechanical warranty
🔴 Cons:
requires special mini Cross refills
do you really need the screen stylus?
Standard Classic: Stic Bic Pens
Ah the Stic Bic...we have all used it at the doctor's office or borrowed one from a friend.
It's the most common and used ballpoint in the world. It's the kind of pen you don't mind losing or buying in packs of 100.
Why do we like Stic Bics?
They are easy, abundant, and who cares if they work when you need them...they're cheap.
Below are two ballpoints that will massively elevate the writing of the convenient Stic Bic user.
⭐

⭐

⭐  

Better Choice - Cross Click Ballpoint Pens

Price range: $55 to $65
A ballpoint through and through, the Cross Click ballpoint pen focuses pretty much entirely on the writing.
This simple pen doesn't have much in the way of bells and whistles.
It is a metal pen, sometimes covered in a matte lacquer finish depending on the color you choose.
Its purpose is to click open, write well, click closed, and get thrown right back into your bag.
A sleek slim barrel, sturdy tip, and satisfying click all back up the 0.7mm point.
🟢 Pros:
0.7mm medium point black ink
easily refillable
click action
Cross lifetime mechanical warranty
🔴 Cons:
slimmer barrel size
no finer point size available
⭐

⭐

⭐

⭐  

Best Choice - Waterman Hemisphere Ballpoint Pens

Price range: $100 to $200
Hands down a premium pen maker, Waterman has built quality, reliable products over 135 years of being in business.
The quality of their nibs and points can be seen by the fact that 100 year old pens are still being used today.
The key to a Waterman Hemisphere ballpoint pen is that it will look incredible, work flawlessly for decades, and last a lifetime or longer.
High quality materials make the pen durable, but visually pleasing.
Decades of designers and craftsmen have worked to refine and perfect the feel of the ball on the paper, the responsiveness of the ink, and the weight of this pen in your hand.
🟢 Pros:
reliable, all metal construction
high glass lacquer or stainless steel finish
precious metal finishes
twist-action ballpoint release prevents accidental opening
three year Waterman warranty against defects
🔴 Cons:
comes standard with medium point, blue ink in pens rather than black
Standard Classic: Uni-ball Roller Pens
If you are a fan of the Uni-ball Roller Pen, you are probably looking for the smooth, fast drying, liquid flow of a good gel pen.
The key to this pen isn't necessarily the feel of the body, it is all about how it writes.
You also probably hate lending them out or losing them so you keep track of this bad boy.
Let's look at some luxury brands that will hold up to the Uni-ball.
⭐

⭐

⭐  

Better Choice - Cross Classic Century Rollerball Pens

Price range: $70 to $260
Arguably the most iconic and most highly rated Cross pens, the Cross Classic Century rollerball is a good ol' pen for fans of a slim barrel.
Cross guarantees an uninterrupted ink flow and the pen is very well balanced in your hand, with or without the cap posted on the end.
This pen is meant to last for 40+ years and is easily refillable and portable in pocket or bag. I love this pen as a special gift for birthdays and weddings.
All in all, it will only disappoint if you don't like slim pens.
🟢 Pros:
7mm gel rollerball ink in pen
all metal construction
black lacquer grip
lifetime mechanical warranty
🔴 Cons:
slightly slimmer barrel than the Uni-ball
no finer refill points available
⭐

⭐

⭐

⭐  

Best Choice - Waterman Expert Rollerball Pens

Price range: $250 to $290
One of the most highly ranked and celebrated pens by the brand, the Waterman Expert, like all Waterman pens, is just a step above the others.
Completely uninterrupted flow, almost no bleeding, quick drying times...and that's just how the pen writes.
Ultimately, with this pen you are buying the surety of over a hundred years of engineering.
As a fountain pen company, Waterman understand liquid ink better than most.
The pen has sturdy construction, a comfortable cigar shape, and fine metal appointments so it looks and feels great in your hand.
I have never been let down by a Waterman pen, especially not the rollerballs.
🟢 Pros:
all metal construction
high gloss finishes and fine metal appointments
enamel brass barrel gives balanced weight
will fit Pilot G2 refills
classy look and feel in your hand
three year Waterman mechanical warranty
🔴 Cons:
you're on your own for cons with this pen
How to Choose a Luxury Pen
Step 1 - Understand Pen Style Choices
First off, what type of luxury pen would you like to get?
There are really just three types of pen styles:
Ballpoint
Fountain
Rollerball
are a pen with a small ball at the tip that rolls in the socket to release ink. As you move the pen across a page the ball will rotate, collecting ink from the cartridge and transferring it onto the paper.
They last a long time — even without a cap — due to their viscous, oil-based ink. The ink comes in every colour imaginable, doesn't dry out easily, and is less likely to smudge.
The thicker ink also means that a ballpoint pen can more easily write on different surfaces such as glossy or oily papers.
You probably have at least nine in your random-things drawer, and five scattered around your car, and three in the bottom of your bag.
Key point: Oil-based inks don't dry out so even if you keep a ballpoint pen in a hot car for months, it will still work as smoothly as the day it was made.
are a pen with a singular container or disposable cartridge that holds the ink that flows through a nib.
They use a water-based ink so they write incredibly smoothly and feel real fancy to use.
Key point: Fountain pens do require some level of maintenance in order to maintain the flow of ink.
are ballpoints, but with liquid-based ink.
To compare, think of smooshing together the writing mechanism of a ballpoint but with the ink and smoothness of a fountain pen. Gel pens fall into this category.
Key point: Personally, I prefer a good quality rollerball as you get the best of both worlds.
How am I going to use this pen?
Ballpoint pens are ideal for someone writing constantly through the day or writing on the go ie: taking notes, writing on a worksite, or those who need a hassle-free experience guaranteed.
🖊️ My favorite: Waterman Hemisphere in Stainless Gold Trim
Rollerball pens work best for those who are sitting down to write a lot or are constantly signing documents.
My favorite: Cross Classic Century in Lustrous Chrome
Fountain pens are the highest luxury pen experience. Great for sitting down to write or making an impression. After their first taste of an upscale fountain pen, many people become dedicated users.
✒️ My favorite: Dayspring Pens Alexandria in Red
Step 2 - Understanding Fancy Pens Materials
Choosing the best premium pen for you often come down to this category.
What makes the pen special outside of how well it writes? The quality of the build and the presentation of the pen.
The first consideration is the material build.
For luxury pens, you will not see many plastic options. Here you are looking for things that list crafted materials like metal, ebonite, precious wood, or celluloid construction.
Good construction materials make a last. Nobody wants to spend $20 or even $2,000 on a pen that can only be used once and then falls apart.
Luxury pens are built to become vintage antiques one day.
The other consideration are the materials used in the finish and trim. Here we are talking about 10 karat clips, high-gloss hand tooled lacquer barrels, and precious stone embellishments.
Fancy pens are meant to make an impression. There's nothing quite like platinum-plating or sterling silver to make your eyes pop!
Step 3 - Price Point, Explained
For some people $20 for a pen is straight-up extravagance, for others they won't blink an eye at $150+ for an entry-level, luxury pen.
Deciding on your budget at the beginning of your buying process is key to getting the most out of your purchase.
Pens under $100 are going to focus more on metal construction and some light precious material usages.
Pens over $100 will feature precious materials, or have a particularly unique design.
Anything $500 or more will often be completely hand constructed with only the rarest and finest quality materials.
Step 4 - Uniqueness with Editions & Personalization
There are two ways to go about determining pen uniqueness: editions and personalization.
Luxury brands will often focus on limited or special edition pens. This can run from only 100 pens made to a one-of-a-kind pen. These pens are meant to be collector's items.
Personalization will also add a one-of-a-kind novelty to a pen. This can range from a custom colored lacquer to a handwritten engraving etched into the pen, perhaps of their name or a favorite quote.
Step 5 - Additional Features & Benefits
What else comes with fancy pens? Premium pens often come with some added benefits.
These include: cases, pen rests, extra refills, and warranties on the construction of the pen.
Your Other Questions...
What is a good fancy pen?
A nice fancy pen to get started with is the Parker Jotter Gel Pen. It comes in five color variations, including one with a sleek gold trim.
Then there are options like the Cross Peerless Rollerball, an incredibly fancy pen with a 23K gold barrel and cap, and a Swarovski crystal in the cap. It's pretty much the height of pen splendor.
What is the fanciest pen brand?
You can't go wrong with Cross pens since this is a brand also trusted by different US Presidents through the years.
You can also try options like Aurora pens, known as the fanciest luxury pens out there, with Montblanc coming in at a close second because of their popularity with pen enthusiasts.
What price range should I expect when shopping for fancy pens for gifts?
Entry-level fancy pens start at around $50 to $100. These are perfectly suited for father's day gifts, special birthdays and job-well-done gifts.
A mid-range premium pen from a well-regarded brand such as Dayspring Pens, Cross pens, Waterman pens or Parker pens can range from $100 to $500 each. In this case, these pens are a good match for anniversary gifts, weddings and special milestone birthdays.
Pens that are crafted from rare materials, or in limited editions from prestigious brands can start at $500 and exceed several thousand dollars.
Consider this a warm welcome to the world of fancy pens!
There are so many options and varieties for whatever your budget or whim is. Ultimately, you are looking for something that writes incredibly well and will always look great in your hand or pocket.
If you have any questions or thoughts on the luxury pen world, feel free to leave a comment. Or get in touch via our Contact page.
Sam Di Nardo is an author for Dayspring Pens, where she has honed her expertise in ballpoint, rollerball, gel and fountain pens since joining the team in 2018.

From her initial role as an Engraver to becoming the Production Manager, Sam's journey has been marked by her passion for the history, manufacturing, and the unique value of gifted writing instruments.

A graduate of Regent University with a degree in English Literature and a special interest in Old Norse literature, dive deeper into Sam's world and discover why she's your trusted guide in the realm of gift pens.