The Easy Guide to Promotional Gifts for Small Business Owners: 5 Actionable Steps to Growth in 2023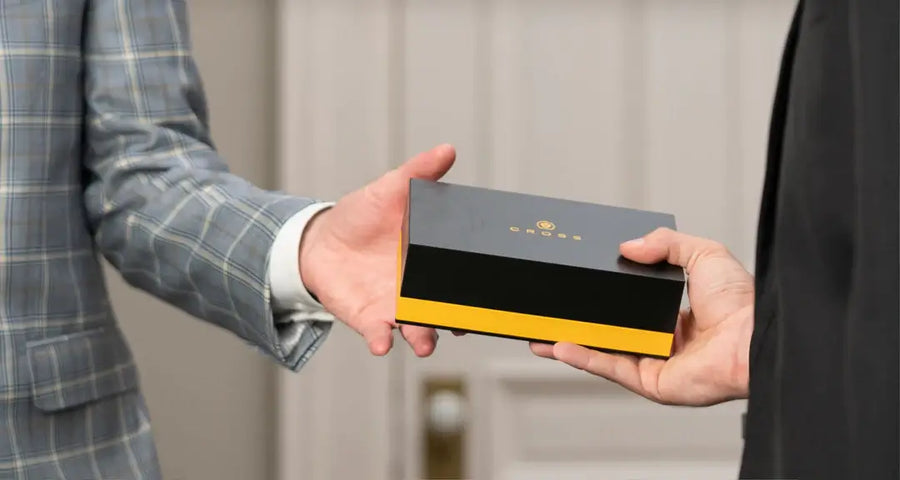 The Easy Guide to Promotional Gifts for Small Business Owners: 5 Actionable Steps to Growth in 2023
Growing your business is hard work. There's a ton of strategies at your disposal, and it can be a bit overwhelming to try them all. However, there's one that can help you elevate your company without doing the most—giving promotional gifts to potential clients and other SME owners.
At Dayspring Pens, we're a gift-giving company. That's our wheelhouse. Additionally, since we're a small business, I want to discuss what we know about promotional gifts for small business owners. I'll also show you how they can assist your small business in growing.
How can you use corporate gifting? What are the actual benefits of using gift-giving as a corporate tool?
I'm going to try to answer these questions for you by explaining promotional gifts and examining how real companies use them.
Let's take a look!
What is a promotional gift?
A promotional gift is an item given to an individual to encourage or celebrate a business relationship.
Traditionally, promotional gifts are branded with a company's logo or name to spread brand awareness, share the corporate identity, or promote an event.
But a promotional gift can also be a higher quality, expensive gift as well.
What makes a gift a promotional item is how the gift is used. If it is used to create, foster, or retain a business relationship, then it qualifies as a promotional gift.
How do promotional gifts work?
In terms of how promotional gifts work for small business owners it really is as simple as it sounds. You buy a gift (either branded or not) and give it out to spread brand awareness.
The idea behind it is a tangible, sensory item a person can experience. Social media manager Elle-Rose Williams writes:
[They] allow people to see your brand, associate your brand and recognize your brand. All these things are important as the more people who become aware of your brand - the better results you will see in business and sales.
There are two main distinctions in promotional gifts: mass distributed gifts or individualized gifts.
Mass distributed gifts:
Mass distributed gifts are probably what comes to mind when you think about the phrase Promotional Merchandise. These items are cheap to the company, will be branded to the company or event, and will be distributed in mass indiscriminately to potential customers.
Examples of this are plastic ballpoints, lanyards, keychains, chapsticks, cups, posters...you get the idea.
Individual gifts:
Individual gifts tend to be less about spreading awareness and more about retaining/fostering a business relationship. These gifts will often be either given specifically to a person at a certain point in the working process or individualized the client.
Examples of this would be gift baskets with edible treats, tickets to an event, or a personally engraved name brand pen.
Is giving a promotional gift good business?
You may be wondering if promotional gifting is still a good business practice in our digital, social media age.
Yes. It really is!
A 2016 study done by the Advertising Specialty Institute gives an incredible breakdown of the effectiveness of promotional giving for businesses.
People who receive promotional items are likely to keep them up to eight months, which means eight months of brand awareness.
More importantly, as Forbes business contributor Michael Wood points out:
The majority of people who receive a promotional product are also more likely to have a favorable impression of the company that gave it to them.
People love a free gift and are statistically going to feel pretty optimistic about your business for giving it to them.
How do I use promotional gifts to grow my small business?: 5 actionable steps
Here's my 5 actionable steps for growing your small business with business gifts:
I've tried to make this as simple as possible. Keep in mind everything in these steps centers on the idea of value.
Value is not simply profit. Value is about relationships, longevity, trust, honesty, commitment to fix what's broken, and so much more. It's honestly about who we are as people—as business people.
You want your promotional gifts to promote a valuable relationship. Don't use gifts to buy loyalty or curry favor. Instead, make them a point of connection and let your goodwill and commitment to hard work speak for themselves.
Here's how to get started:
Step 1: Cast your net wide, but keep it relevant.
Do a search for other businesses that would benefit from your products or services and create a big list.
You'll want to find businesses that you think will actually find some value in your work and who you'd find value in working for.
Make it a list of , say, 30 companies, but make a "top 10" list of businesses you think will be most receptive to your products and services and who you think will share a sense of value in your collaboration.
Step 2: Do your research on the companies to whom you want to give.
From that master list, start with your "top 10", and take a deep dive into their brands and industry.
Next, find out about their history, their founding, their people, their service, what their customer base thinks about them (both positive and negative).
Begin to think about what gifts will be best for each business on your list.
Step 3: Give gifts that communicate value.
Taking the information you have gathered, take time to select gifts that show: 1.)you understand what the company or individual does 2.) you value their work 3.) you have something to offer them.
This might seem like a lot to keep in mind when selecting a gift, but don't over think it.
For example: You have a business that creates budgeting software and you want to share it with small business that don't have an accounting department. A valuable gift could be a branded calculator or a personalized pen.
Both these items show you are aware of their business and their needs, while showing your gift recipients you are a practical business.
Step 4: Keep up friendly contact.
While you need to observe proper and professional corporate gifting etiquette, it's alright to be interested and friendly. Friendly does not necessarily mean informal or rude; it means being interested in the things the other business and potential clients are interested in and wanting to promote those things.
Check in now and again—and for concrete reasons. Don't be too insistent that they consider your products or services. Just ask what's going on and if there's anything you can do to help.
Even if you just make their day a little brighter, that's a great use of time and energy. People remember things like that.
Step 5: If you get rejected by a client, don't use gifting as a method to try and buy them back.
If someone gives you a hard no, take them at their word.
If you keep on sending gifts or checking in, it will look like you're trying to buy them back. Consequently, it comes off as beggy and manipulative.
It's likely that someone on your "top 10" will want to partner with you. Nevertheless, if you happen get through it and no one takes you up on your work, move on to the next ten on the master list.
Rinse, repeat.
What are the REAL benefits of giving promotional gifts?
Based off of the interviews I conducted and collected conclusions of other studies, I've narrowed the benefits of corporate gifts down to 3:
Benefit 1: Brand recognition
We saw in every case that brand recognition is one of the biggest benefits for giving gifts to clients and partners.
Benefit 2: Client retention
Client retention ultimately comes down to the connection you make with your customers and the good service you offer them.
That being said, the right promotional gift used to demonstrate your loyalty to the client and to thank them for either considering or working with you can help make a more personal and positive encounter.
You can't buy yourself a customer with a gift. But you can show them how much their business means and show them what your business values.
Benefit 3: Lead generation
Like we saw with Philips & Peters Law Firm, corporate gifting can help your referral rate and generate new leads.
Being the kind of company that gives gifts keeps you in the mind of clients who may refer you.
People who think well of you tend to keep thinking of you. It's that simple!
What are the best business gifts for small business owners?
The
ASI study on promotional gifts
listed useful gifts as the most effective for marketing.
Here's my list of top promotional gifts for small business owners:
Because all of these gifts can be branded, you might be thinking that these are naturally the best gifts for your business, period. Not totally true.
Like I said before, you need to find gifts that communicate value.
Personalized pens
, our specialty, were ranked
the most useful promotional gift
, and that's what makes it one of the most popular forms of corporate gifts and swag.
Where can I find the most effective promotional merchandise?
Promotional Products Association International
who will research and work with your budget to find the perfect promotional item for your business and your market.
You can also check blogs and gift ideas lists just like ours:
In addition to that, I've compiled a
list of 103 personalized gifts
, many of which would make GREAT business gifts.
The benefit of all these resources for merchandise is that they present you with a ton of options and avenues for purchase. We know it's a lot of information, but with a little planning, we're sure you can find exactly what you're looking for.
And we hope you might also consider pens from Dayspring as one great option.
How a real company uses promotional gifts
Philips & Peters Law
I interviewed Leila Mills, a Marketing Manager at
Philips & Peters Law
, to find out what she thought about effective corporate gifting strategies that can land bigger clients. Since we both have an interest in
local marketing
and other similar topics, I knew she'd have some great insights.
So, when I asked Leila about the kinds of promotional gifts that her firm sends out, this is what she said:
Phillips & Peters send out promotional gifts in the form of cakes [from Pownd Cakes by Jen] at the end of the year to professional peers, the clerks of the courts, and other connections that have served as viable referral sources for us.
To date, we haven't used any promotional gifts to retain new business or thank current clients. It's been helpful. It's become a tradition that our recipients look forward to and ask us about. We have had a couple professional peers joke that they are sending us clients just to get the cakes. 
We give gifts because we enjoy it, but I can't deny the practicality of it. Even with the prevalence of digital marketing our most profitable clients come from word-of-mouth recommendations, so we want to keep our referral sources happy. 
People always love them. In the past we have hand delivered the cakes ourselves and offices have cheered in the past when they saw the cakes coming through the door with one of our employees. 
Promotional Gifts: Hits Vs Misses
I then asked Leila if her firm had ever received promotional gifts and how they perceived those gifts.
She told me this story which I thought was super interesting:
Leila's firm was once looking for a digital design company to build its website, and there were three companies in the running.
The first company made a really great presentation, and they sent excellent personalized gifts. Leila said that they even sent a bouquet of flowers on the firm's anniversary. That communicated a lot of value and thoughtfulness.
The second company made a good presentation, and they made an in-person connection with the firm.
The third company made an okay presentation, and they sent a lot of personalized gifts.
Philips & Peters turned down the third company in no uncertain terms. However, the company kept sending gifts. It became a little annoying, even a bit spammy.
No matter how personalized the gifts were, the fact that they had been rejected just didn't seem to register, and the notes that came with the gifts said things like, "We hope you've reconsidered your decision and you choose us instead."
Leila said,
I... don't appreciate when I've talked to a company and expressed we aren't interested in doing business with them, but they keep sending gifts. That feels manipulative because we've said no, but they try to keep their foot in the door. 
That's using promotional gifts in the wrong way: it's beggy and unprofessional.
You'd think that the first company would get the deal, and Leila even says that, objectively speaking, the first company made the best presentation.
However, Philips & Peters went with the second company because they'd made a good enough presentation, and they'd met face-to-face.
What does this mean for corporate gifting?
It means 1.) you shouldn't use a promotional gift to beg, but it also means that 2.) your personal presence counts as a kind of corporate gift. Meaningful gifts make a huge difference, but none so much as a face to put to the name.
Conclusion
promotional gifts
to grow your business.
Corporate gifting is about communicating the value of the business relationship.
Remember, gifts don't have to be expensive or even overly
cheap
. The key is to look for a gift that shows the client the kind of company you are and communicate that value you put in them.
Have you had success with these steps or better yet do you have a story to share of how promotional gifting has grown your business? If so, please share in the comments below! We are always looking to learn more about how your business has grown.
| | |
| --- | --- |
| | Sam Di Nardo is an author for Dayspring Pens, where she has honed her expertise in ballpoint, rollerball, gel and fountain pens since joining the team in 2018. From her initial role as an Engraver to becoming the Production Manager, Sam's journey has been marked by her passion for the history, manufacturing, and the unique value of gifted writing instruments. A graduate of Regent University with a degree in English Literature and a special interest in Old Norse literature, dive deeper into Sam's world and discover why she's your trusted guide in the realm of gift pens. Follow Sam on LinkedIn. |