Here's my proverbial chiropractic gift advice for relieving stiffness, anxiety, and dizziness, plus it can help you find the right gift!
What I want to do in this article is discuss general concerns about the price of engraving and answer frequently ask questions that a lot of people have about the engraving process, and then I'll suggest a few places to look for affordable personalized gift options.
First, let's talk about one of the most whiplash-inducing parts of the buying experience: money.
How much does personalization usually cost?
Luckily, answer is usually: not that much!
It usually depends on how a company can personalize your order, whether its something like laser engraving or its something more in-depth like a completely customized item.
How much does laser engraving cost?
For most engraving companies (like Dayspring Pens), personalization is free. The cost is included in the price of the items.
Other companies will probably only charge a small fee for engraving (usually between $3-$10).
This means that personalization by laser engraving (as well as personalization with embroidery or something else that just adds little personal touch) is the most affordable avenue.
How much does a fully personalized gift cost?
If the company you are buying from personalizes the whole item (for example, items like bobbleheads), then it requires you to give detailed specifications.
These sorts of gifts can be pricier, but, again, usually the cost of personalization is added to the total cost of the gifts.
That means you likely won't be surprised by a whole mess of added fees tacked onto the advertised price.
How long does the engraving process take?
It depends on the manufacturing guidelines of the company you want to engrave your gifts.
I wrote an another ultimate guide to the engraving process that gives a lot of insight into what actually happens when you order an engraved gift.
As far as the timeline goes…
For some companies, the process can take a long time (usually 4-14 days), and it depends the availability of their products.
For others, it's usually done on or around the same day as when you ordered it.
Some companies offer rush production, so you can ensure that the personalization is completed and your gifts are shipped the same day you ordered them.
Just make sure your company offers this same guarantee!
Gifts that require a lot more in-depth or detailed personalization will likely take longer than engraved gifts, so just be prepared for a bit of a wait.
If there's a particular day you need your gifts, purchase ahead so that your gifts can arrive on time. Don't procrastinate!
How long does shipping take?
Like everything else, it depends.
But most companies offer a variety of shipping methods to get your purchase to you on your timeline.
What personalized gifts should I get if I'm in a rush?
That depends on the company!
Here's a short list of 6 of the best personalization and engraving companies and their production and shipping options so you know what you're getting and when:
1.) Things Remembered
Things Remembered is one of the largest engraving and personalization companies out there. They're usually one of the top options on a Google search page.
They say this about their production timeline:
"Most orders ship in 1-2 business days after the order is placed for Standard and Express Delivery Methods. Economy orders ship within 4 days."
You have to purchase before 3pm EST if you want to get your gift shipped ASAP.
2.) Personalization Mall
Personalization Mall is probably the absolute largest company specializing in engraving and personalization.
They have a few different options for production and shipping.
They sort of lump production times in with shipping timetables.
Here's a list of their shipping options and the timeline notice that Personalization Mall has up on their website.
First, there's Economy Shipping…
Typically ships within 4-5 business days. Please allow additional 6-10 business days for transit time.
Then there's Standard Shipping:
Please allow 2-3 business days for personalization process and additional 3 to 5 business days for shipping time with average delivery between 7 to 10 business days after the order is placed.
Then there's Expedited Shipping…
Unless otherwise specified on order confirmation page, orders ship Monday through Friday and will be delivered 3 business days after you place your order.
Finally, there's Rush Shipping…
Unless specified otherwise on order confirmation page, orders ship Monday through Friday and will be delivered 2 business days after you place your order.
All in all, Personalization Mall can be pretty quick to engrave or personalize your custom gifts, and they let you make a pretty accurate guess of when you'll get them.
This is us! Yay!
At Dayspring Pens, we have a ton of custom engraved gift pens from gold pens to pens in every writing style. We like to think we're a great option for your needs.
Orders from us usually ship about 3 business days. Depending on production volume, it's often much sooner, but getting rush production ensures that your gifts ship the day you buy (provided you buy before 3pm EST).
On Zazzle, you can shop for gifts based on a specified date, and each product page usually tells you the earliest date it can arrive.
With them, everything kind of depends on the gift, but they offer a huge selection of personalization specifications.
Shutterfly's production and shipping timelines are also
Economy: 6-10 business days
Standard: 5-7 business days
Expedited: 4-5 business days
Rush: 3-4 business days
Super Rush (for select gifts only): 1-2 business days
If all that you need is a  4x6 glossy print, Shutterfly also has a partnership with CVS, so you can purchase a print and have it ready in about an hour!
Snapfish's production and shipping times are also lumped together.
However, they don't really seem to budge on their production time.
It's almost always a 3-day process; this is probably due to the sheer amount of orders that Snapfish gets in a given day.
All in all, Snapfish can get your gifts to you in about 4 days, it just depends on how much you want to pay for shipping.
Need help deciding which gifts to get? Here's some of the best engraved gifts at the best cost that I've found from all over the internet:
4 Affordable Custom Engraved Gift Ideas to Add to Your List:
This is such a cool gift!
I always just put my phone in like a mug or a bowl or something to amplify sound, but this beat block is designed specifically to channel sound to the max without needing to be charged.
Get it engraved for your gift recipient so they can pump up the jams and feel cared about.
A custom Tac-Force pocket knife with a unique monogram engraving offers a unique twist on a go-to buying option for a more-than-affordable price.
For the person who always has a handy blade on them; get them an even more special one that shows how much you care.
A personalized desk wedge is the best way to either provide you with a special opportunity to make your coworkers laugh or show your real appreciation in a new way.
It comes with a custom engraving at a reasonable price
Custom engrave it with "World's Best Boss," or perhaps "Grand Master of the Water Cooler." Whatever works!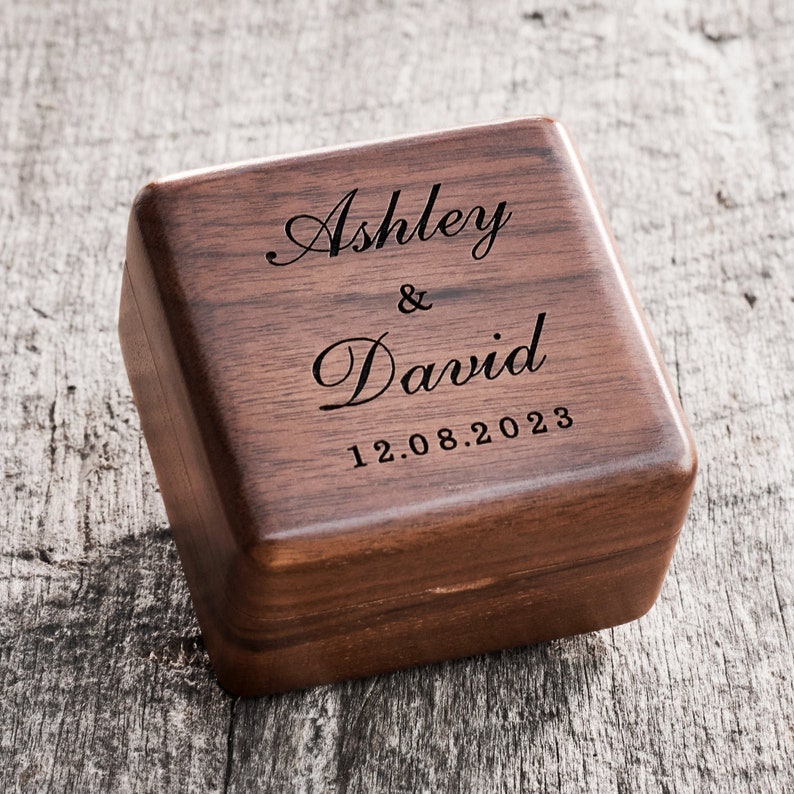 Get one of these to hold your fine, covenantal jewelry, and remind you of who do it for.
Get both of your initials on it!
People also ask me...
What should I engrave on a gift?
I've written a whole other article with some great examples of engraving quotes that I think is worth your time.
How are pens engraved?
Check out my other article on the whole laser engraving process!
Conclusion
I hope this article answered your question about affordable engraved gifts and production times.
Let us know which affordable engraved gifts you love and why in the comments!