Frequently Asked Questions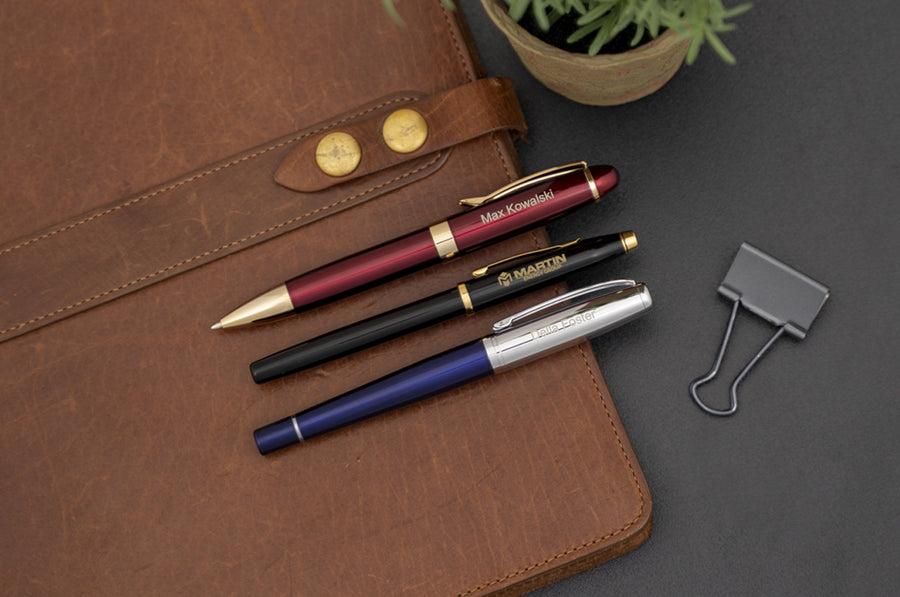 Frequently Asked Questions
10 business days or less. If you upgraded your engraving time or shipping speed, you can figure out how long it will take by adding the two numbers together. Don't worry, we will send you all the specific details and tracking once we process your custom order.
Standard Engraving Time 
Whenever possible, we do our best to get your order out more quickly but our standard engraving time is 2 business days. You can also expedite production by upgrading to Rush Production to ensure that your order will ship within one business day. (Available on most products.)

Standard Shipping Time
Our free standard shipping in the United States has a transit time of 4 - 7 business days. This can expedited to another method of your choosing at checkout. 


We want you to be happy with your product!

Within 30 days of your order, we offer a 100% refund if a product was faulty or damaged in shipping and replacement is out of the question. While extremely rare, if we make a mistake we will also refund or replace the item.

Since our orders are custom engraved specifically as you request, we do not accept preferential returns. Once the item is personalized for you, it cannot be reused or restocked. For our part, we will engrave the text exactly as entered, including capitalization and punctuation.

In some cases, we are able to provide replacement caps for your item at a nominal charge, please contact us if you would like to pursue this option.
Shipping Time - Package arrival dates are determined by adding the engraving production time and the shipping transit time, as counted in business days. We are not responsible for carrier delays, including weather delays, and seasonal volume delays. We not responsible if a carrier requires a signature and no one is at your location to sign at the time of delivery. 


International Orders:
International shipping can take 10-15 days to arrive and not considered late if they arrive within this time frame. The customer is responsible for all customs or duties fees charged by a carrier and / or their government. Orders are not returnable for refund if the customer does not pay for customs fees charged by their country or by the carrier of their choice. We do not provide any estimates as what your country may charge to import. 
IMPORTANT: 
We reserve the right to ship earlier than projected. We reserve the right to ship by an alternate shipping method and/or carrier than requested and/or paid for, as long as the package will arrive within same the shipping transit time. Our computers are set to choose and ship out by the first pickup and fastest most efficient method that is equal to or less than the transit time you choose.
Your receipt of an electronic or other form of order confirmation does not signify our acceptance of your order, nor does it constitute confirmation of our offer to sell. All orders will be reviewed before fully accepted 

Dayspring Pens reserves the right at any time after receipt of your order to accept or decline your order for any reason. We reserve the right to ship less than the quantity you ordered of any item if stock levels are not available, and then back order the remaining product. 

NOTE: We do not offer engraving of potentially offensive words, even if they are intended in good humor. This includes masking words with symbols or alternate spellings. Our agreements with the brand names we carry requires this.
All major credit cards,  Amazon Checkout, and Wire Transfer
For Corporate or School Accounts, please email us to establish a Corporate Account or if you would like to pay by purchase order.
Your credit card will be charged at the time the order is placed before it is engraved.
We will keep you informed by email of any products that you have ordered that are out-of-stock and/or unavailable for immediate processing. If an product is out of stock, you may cancel your order at any time prior to engraving / shipping. 

If a product is on back order, we will ship your product as it becomes available. 

We make every effort to keep the website updated with correct stock levels, but sometimes we may have to back order a product if our suppliers are not able to provide it in the timely manner.
Dayspring will charge and withhold the applicable sales tax for orders to be delivered to addresses in which we have a physical presence or economic nexus. 
In the event a product is listed at an incorrect price due to typographical error or error in pricing information received from our suppliers, Our Store shall have the right to refuse or cancel any orders placed for product listed at the incorrect price. 

Our Store shall have the right to refuse or cancel any such orders whether or not the order has been confirmed and your credit card charged. If your credit card has already been charged for the purchase and your order is canceled, Our Store shall immediately issue a credit to your credit card account in the amount of the incorrect price
While we do not offer gift wrapping, all of our pens comes in a gift box or case. 

If you indicate that you would like a gift message enclosed, we will include the note and gift card with your shipment. 

Pricing is not sent with the order on the packing list.
If you have a Cross pen, click here for warranty information on Cross pens

If you have a Parker, Waterman, or Woodmark pen that you bought from us, please email us for warranty claims. 

Waterman pens a have a lifetime mechanical warranty, Parker has a 1 year mechanical warranty, Woodmark has a 1 year mechanical warranty. 
Yes, we do offer proofs on business orders with a logo. For business orders, we offer a free proof for orders larger than $250 that have a logo involved. Please email us your logo and the pen type for you free proof. 

We are happy to offer up to 3 proofs per order at no charge. If you need additional proofs for the same order to make a decision, there is nominal cost of $25 per proof to cover the art design time. 

We do not however offer complimentary proofs for single "text only" orders. The cost for a proof on a text only order is $25 for the art time.