How These 2 Companies Maximized Profits with Corporate Gifting (2023)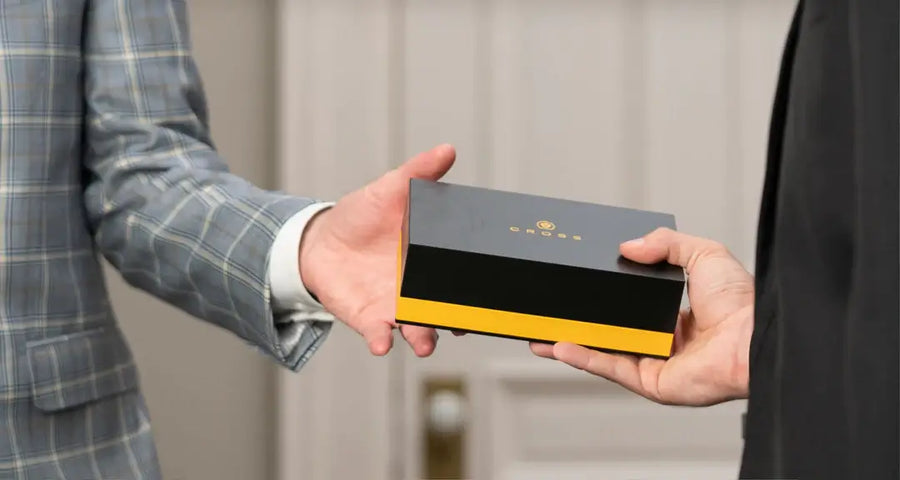 How These 2 Companies Maximized Profits with Corporate Gifting (2023)
When Krystal Stearns, founder of Loan to Home wanted to grow her brand's value chain, she went for corporate gifting.
Loan to Home is a company that connects people to mortgage agents. Though as of 2020, Experian recorded that up to 44% of Americans own a mortgage, the market is still somewhat tough. Stearns knew her company would fail from lack of clients if the team didn't put their best foot forward.
The brand had to create satisfaction and a lasting impression on its clientele. An impression so strong, people would return for more and possibly refer their friends/family.
I'll tell you how Stearns employed corporate gifting to achieve this, but first what is corporate gifting? It's the art of sending presents to:
Clients 
Potential clients/partners 
Business partners, or
Employees
Although used interchangeably with promotional gifts, they're not the same.
Promotional gifts are aimed at creating mass awareness for your brand. Like offering general discounts, promo codes, or pens branded with your company logo.
But corporate gifts are more personalized. They aim to say "thank you for contributing a quota to this brand," or "We'll like to work with you, here's a gift to show how interested we are."
Cross Calais Ballpoint Pen- Lustrous Chrome
Why Corporate Gifts?
With the right approach, corporate gifts could build your network, brand, and profit margin. 
Here's why: 
When people are appreciated specially, they feel happy. 
When customers, employees, and partners are happy, they are more likely to speak well about your brand and come back. 
When employees are happy, they're more productive. More productivity of course, could mean more sales. 
When business partners are happy, they could offer solid discounts on their products or services. 
Corporate gifts help to build a stronger relationship with the receiver. It shows them how creative, thankful and concerned you are.
Rather than stressing to grow your customer base all the time, an alternative is to grow your profit by retaining your current clientele. According to Forbes, a "...5% increase in customer retention can boost profits by 25-95%." Further "Over 80% of C-suite executives believe that business gifts generate measurable positive ROI in addition to intangible benefits. 'Gifts humanize business,' said a survey respondent. 'It pays for itself twofold,' said another."
Loan to Home's Corporate Gifting Process 
When we talk about corporate gifts, the first set of recipients that should come to mind are clients. Because without them, a company cannot sustain itself. This is why the Loan to Home team cares so much about theirs. 
The Strategy 
For Krystal, it wasn't just about giving, but using the gifting experience to pass a solid message to clients.
She curated something they'd still possess years later. This way, they could always look at it, remember Loan to Home, and come back. Or refer others.
Her gifting process thus imbibed four major values:
Gifts that Last: To get started, the Loan to Home team sourced quality items that would stand the test of time. This way, the gift is always there to remind its owner of the company.
Custom Items: You know how personalized items have the hearts of many in the 21st century? Topping the gift boxes that Loan to Home sent are unique cards inscribed with a custom message for the recipient. 
Image from: spoonfulofcomfort.com
Consistency: It wasn't just during Christmas or once in a blue moon. Loan to Home sent gifts before and after the mortgage process. Sometimes, during the process as well. 
Gifting Needs: Who doesn't need a bowl of soup? Or a blanket? 
A lot of people will settle for logo branded packages filled with items that no one needs and are only an obvious attempt to put the firm's name out there. But Loan to Home's gifting was different.
The boxes of soup, blankets, and cards were soothing, a way of saying "We don't just help you own a home, we care about your comfort in the home!" 
The Result
Loan to Home is not just creating a strong bond with existing clients, but making new ones. According to their gifting agency Spoonful of Comfort, Loan to Home updates their customer database at least twice a month.
Quality, thoughtfulness, and creativity got them here, and it's going to get better.
"You have to look at the life of our clients. I can justify a more expensive gift because it will impact a relationship that will last years. The quality of the message we send reflects the quality of our service and our commitment to that client. For us, that's a meaningful way to grow our business." — Krystal Sterns, Founder Loan to Home (derived from Spoonful of Comfort). 
The Lesson
Bagging profit shouldn't be the primary aim.
It's the end goal but first, focus on making your recipients happy. This way, you'll be able to determine a suitable gift. Your ROI is only as good as your gifts are.
A lot of companies have engaged in corporate gifting, but received negative outcomes because their gifts were low quality, too common, or unthoughtful.
Timetrade's Corporate Gifting Process
Image from: timetrade.com
Giving presents to potential clients and business partners is almost an entirely different ball game.
According to American Marketing Association:
"Companies won't do business with you simply because you bought them something­—regardless of how useful or fancy it is."
Some of these potentials are also in the market­—they know how the game is played. To impress them, you have to do a little more than expensive presents wrapped in gift boxes. You've got to be extremely innovative with your gifting. 
And that's what Timetrade was. 
The Strategy 
Creativity: Timetrade, a software company for appointment scheduling, wanted to get the attention of a potential client. So they curated and sent a gift of golf balls to the sales team. And for the Team Lead, a putting mat. If the sales team received their business call, Timetrade promised to complete the golf set.
Now, that's mind-blowing, daring, and exciting!
Tactical: Imagine how curious the team would be to speak to Timetrade. At least one of them would want to know:
Who is Timetrade? 
What do they offer? 
How can we get the complete golf set? 
This curiosity would open the door for conversation, which leads to negotiations, and boom! They might strike a deal. 
The Result 
In his discussion with AMA, Daniel Gaugler stated that Timetrade saw a "...a 20[-time] return on their investment on that program, which slayed anything they were doing previously."
Even if Timetrade hadn't won the hearts of those potentials, they'd left a lasting impression.
The Lesson 
Through this gifting strategy, Timetrade introduced what the company stands for. They subtly told the target that if they can offer such spectacle as a gift, they'd do much more on their products and/services.
Your gifts offer the opportunity to show what you offer and demonstrate your brand values. This is more than just a promotional item with your company logo etched on it. It is the chance to say your work ethic and values, sharing who you are not just what you do.
Want Your Chance to Gift? 
Appreciate your clients, employee, or a partner by choosing the type of gift that communicates your care with the ever important demands of business-giving etiquette.
Dayspring Pens products are professional yet thoughtful, creative, and useful as attested to by our wonderful buyers:
Executive Business Gift Pens with Logo Decorations
To make your pen particularly personal, try engraving a special note or a handwritten engraving just for them. Engraving can be done in 24 hours.
Personalized/Engraved Woodmark Rosewood Desk Name Plate - Engraving Included.
Each Dayspring Pen item is meticulously crafted and engraved to show your recipient the delight of well-made luxury. Whether you're searching for a branded item or a plain one, the journey to growing your brand through corporate gifting begins here. 
Customer Review | Richard P.
Featured image: Freepik
Daniel Whitehouse is the President and CEO of Dayspring Pens. He uses his expertise with premium writing utensils to create exceptional, intentional products and craft easy-to-understand articles that help both new and experienced users learn more about their writing tools. He lives in Virginia where he and his wife are raising their four children.

To learn more about him and his insights about custom engraved gift pens, follow Daniel on LinkedIn.