How to Find and Give the Best Secret Santa Gifts for Coworkers in 2023
How to Find and Give the Best Secret Santa Gifts for Coworkers in 2023
The Secret Santa gift exchange is a fun holiday season tradition in which everyone is both giver and recipient of one gift, but the recipient doesn't know who's giving to them. Those are the rules.
Secret Santa is a really fun activity for families, friend groups, and it's especially well-suited to professional work environments around the holidays.
But in the office, there's always the potential that you might not really know your gift recipient that well. This can cause some anxiety, stress, and undue pressure.
In this article, I want to show you how to find and how to give a Secret Santa gift to a coworker you don't know that well.
So, if you're the Secret Santa to someone in the office that you just don't know that well, I want to help.
Let's start by addressing the 3 most common difficulties you're probably facing, and I'll offer you some actionable solutions.
3 difficulties in finding Secret Santa gifts for coworkers
1.) Unfamiliarity
The first difficulty is just the simple fact that you might not know the coworker to whom you've been assigned to give a gift.
If a gift giver doesn't know their recipient, they're going to have to offer them a way for them to get their footing.
That's okay we'll talk more about finding out what they like without giving yourself away.
You might think that unfamiliarity isn't a problem in your office. However, even if your workplace is a fun, close-knit group, you might still run across this problem in particular cases.
For Organizers: Foster familiarity
If you're organizing a Secret Santa party, this is for you.
While you can't make your coworkers be friends overnight, and you can't really force your way into a stranger's interests to find out what gift they will like, you can do some of the following:
Make sure to include first and last names in the participant list.
When the group is large and people might only know each other by faces, maybe include photos of all your coworkers so that the giver knows who their recipient is.
Make sure to keep open lines of communication. This is because if people have questions about who their recipient is and what they might like, you can answer their questions or direct them to others who can.
2.) Social Distance
Some of us might face the challenge of not actually having a physical office space shared by everyone in the company.
During the pandemic, a lot of us are working from home, so organizing a Secret Santa party virtually through Zoom or Google Meet is pretty much the only way to make it happen.
How to ship or run a quick, safe drop-off
If your company is spread over wide distances, it'll be unlikely that you can just drop off your gift at your coworker's door. So, shipping is the likely option.
See if your company is willing to reimburse them for shipping costs.
If you're coworkers or employees are within a particular distance, drop-offs are a great way to exchange gifts. Leave the gift at the door of your recipient with a note explaining its presence there.
3.) Disappointing Gifts
Disappointment about Secret Santa exchanges can really stifle the fun, and worrying about it can cause undue stress.
You might be worried that your gift is bound to be bad because you don't know your coworker that well.
Or you might be worried that someone's going to give you a bad gift because they don't know you.
If you're worried about that, here's a helpful, humorous video of Benedict Cumberbatch teaching you how to react to bad gifts.
For Organizers: Set clear expectations, but don't micromanage
Organizers can help avoid disappointment by setting clear expectations.
To do this:
Set a clear budget for all participants. I recommend keeping it below $20 to keep the mood light but also professional. Setting a high budget causes two problems: 1.) people who shoot on the low side might communicate a cheapness through their gift, potentially hurting the feelings of their recipient; and 2.) people who go high or above the budget might break the sense of professional mutuality that all office spaces need to maintain a healthy professional gift-giving environment.
Pick a theme for the Secret Santa exchange: picking a theme (for example, a theme like "Christmas in Hawaii" or "The Grinch") might help to focus the gift-giving so that your coworkers aren't just totally left on their own to pick gifts. If there's  and it also provides opportunities for light-heartedness and even some good ol' belly laughs.
Allow a window of a few days for givers to get their gifts to their recipients: having some flexibility in when the recipients get their Santa gifts means that unforeseen circumstances are less likely to come up that might hinder a good experience.
Set a clear time for your coworkers to open their gifts together: While you can have an open window for gift reception, make sure to have a set time where everyone comes together and opens their gifts. If you can, order food from a caterer, too. Everyone loves free food.
This might sound a bit contradictory, but don't hound everyone to buy their gifts: this can only add stress. Keep things light.
For Secret Santa givers: Take it easy
Just follow the instructions the organizer gives you as best you can. Don't overdo it.
Your gift has a much better chance of being great than you think.
But to really find the best gift possible, let's take a deep dive.
How to find the perfect Secret Santa gifts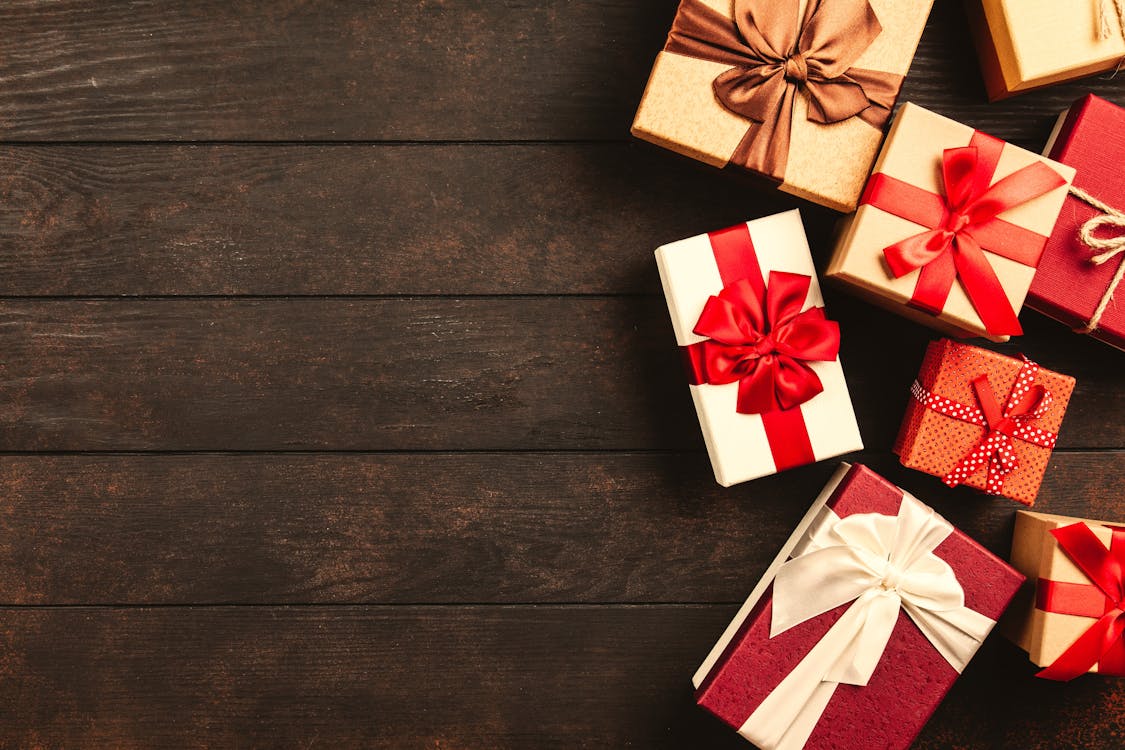 First off, I want to dissuade you from just getting a gift card. I know that might feel like I'm taking the ground from beneath your feet.
While some people love receiving gift cards so they can get whatever they want, and it takes the pressure off you to put in the effort and potential risk of disappointment, it's not really in the spirit of Secret Santa.
Go ahead and risk disappointment!
You'll want to get something concrete and either 1.) meaningful, 2.) practical, or 3.) at least humorous.
There's a ton of lists of Secret Santa gift ideas for everyone out there on the internet, and a lot of them give really great suggestions that your coworkers are sure to love.
Sources like Today, The Strategist, and Business Insider suggest things like hot sauce keychains, an insulated water bottle or two, a face mask, a pair of socks, and just generally convenient, neutral gifts.
The internet is your friend, but the most important thing to keep in mind is what your recipient might actually want.
Find out what your Secret Santa recipient likes
You can find out what they like a number of ways:
If you know the recipient well, reflect on previous conversations you've had together of their likes, loves, inspirations, and aspirations. Find a theme in those conversations, form a set criteria for gift ideas that matches up with the budget and possible theme of the exchange, and then search Google or stop by a shop that might have something within that set of criteria.
If you don't know them well, ask one of their friends about their interests. It's easy: you can simply tell the friend that you're their friend's Secret Santa and you'd like to know what might be a good gift for them. There's no shame in it.
Ask the organizer: hopefully the organizer will follow my advice and keep lines of communication open to field questions like this.
Opt for a neutral gift: if all else fails... hot sauce keychain or coffee mug.
What are the best Secret Santa gift ideas?
Narrowing down the perfect gift is a tricky business. It depends on so many variables, one of them being what your recipient actually likes.
Here's what I say though: the best Secret Santa gifts for coworkers are ones that communicate your respect of their time, work, and interests.
And I tend to think that personalized gifts do this the best.
Personalized Gifts
While hot sauce is cool and all, the best Secret Santa gifts are personalized. They go above and beyond in communicating respect and attention. And they're actually easy to find and order!
I've compiled a list of 101 personalized gifts that might make the best Secret Santa gifts.
Personalized gifts are usually super affordable, so they can usually fit the budget of an office Secret Santa party.
All that you really need to make the perfect personalized gift is the name of the recipient. Get their name engraved or imprinted on it, and voila! It's done.
I've written another article about why I think personalized pens make the best Secret Santa gifts.
Personalized pens are obviously my favorite Secret Santa gift, and that's because they fit the professional atmosphere of a workplace while also communicating personal respect.
In my mind, personalized gifts are the best Secret Santa gifts.
How to Give a Secret Santa Gift
Gift Wrap
Don't forget to wrap your gift.
You might be like me: the sheer effort of finding the gift is enough to take away any energy you might have for wrapping. That being said, even if you put it in a nice bag with some tissue paper to cover it, you've won.
Handwritten Note
To make your gift the most meaningful, add a handwritten note.
It might seem like I'm asking a lot, but really this is the key part of the gift.
Write an encouraging note to your coworker for the holiday season. Keep it professional, but don't just wish them well and be done with it.
Pick out things like their hard work and their aspirations, show them that you've noticed them and that you hope it all pays off.
It's that simple.
After that, your gift is ready to go, and you can make your way to the party!
Conclusion
This has been my guide to hacking Secret Santa parties. I hope it's been helpful to both organizers and participants.
Now we can all find the best Secret Santa gifts for our recipients.
Now it's your turn!
Let me know what hacks you have for Secret Santa parties
Daniel Whitehouse is the President and CEO of Dayspring Pens. He uses his expertise with premium writing utensils to create exceptional, intentional products and craft easy-to-understand articles that help both new and experienced users learn more about their writing tools. He lives in Virginia where he and his wife are raising their four children.

To learn more about him and his insights about custom engraved gift pens, follow Daniel on LinkedIn.