Engraved Personalized Gift Ideas for 2023
Engraved Personalized Gift Ideas for 2023
You already have your perfect gift picked out and ready to go, but now you need to figure out the personalized engraving to make your unique jewelry or custom pen special.
I am here to help with the dos and don'ts of what to get on your engraved gifts. I have been an engraver with Dayspring Pens since 2018 and have noticed some of the big trends and faux pas of personalized engraving.
In this article, I am going to focus on engraving etiquette and ideas to help you determine exactly how to utilize your custom engraving whether you are buying professionally or for your loved ones.
Let's jump right in!
Engraving Etiquette aka how personal should I get
Engraving etiquette starts with two major distinctions: Are you buying for a professional relationship or a personal one?
Your relationship to your recipient will be key to finding the perfect custom engraving. You probably aren't going to get the same engraving for your best friend or your romantic partner as you would your boss or the coworker you drew for Secret Santa.
Timothy Murphy, the master engraver at Tiffany & Company, gave the perfect advice:
consider what effect you wish the piece to have on its recipient. Do you want them to be thrilled? Amused? Moved? It is also useful to consider whether it's a piece to be displayed or privately enjoyed.
Start by asking yourself: Who is this person to me? How well do I know them? and, given your answers to those questions, How will they respond to a personalized gift?
Professional Custom Engraving
If your answers to any of those questions lean towards the gift recipient being a coworker, boss, a client or corporate customer, you will definitely want to be particular in how you choose your custom engraving.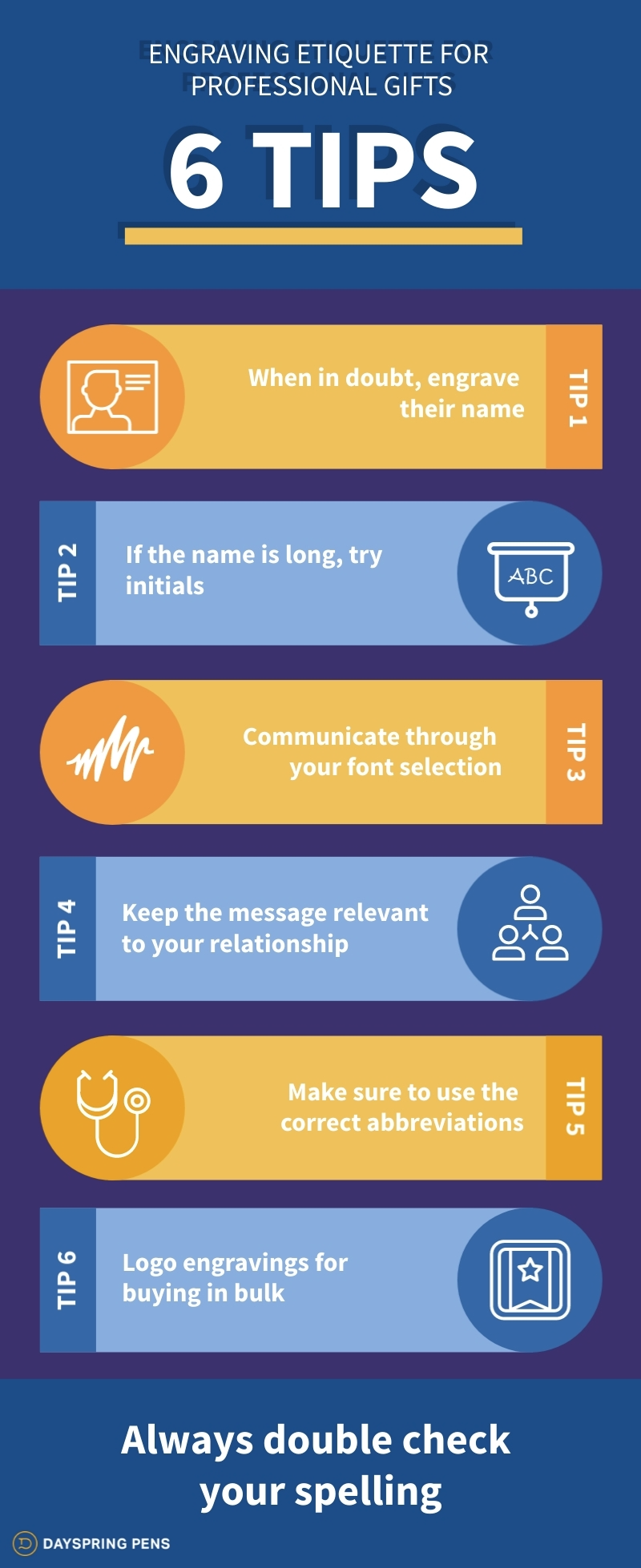 1.) When in doubt, engrave a name
Engraving the name of the individual is always a safe, timeless option. It will look appropriate on crystal gifts, a pen, a journal, desk sets...any of the professional gifts out there ripe for personalization.
2.) If the name is long or doesn't fit the gift, engrave initials
Initials or monogramming are always a perfect personalized engraving for smaller items that look best with simple engravings. This could include a watch's underside, a thinner barreled pen, or the top of a briefcase.
3.) Communicate through your font selection
Again, I will differ to Mr. Murphy's advice:
Do you want your lettering style to suggest strength or elegance? Both? Don't be afraid to mix styles in a message. If legibility is a priority, be wary of requesting words to be engraved entirely in any uppercase script.
From my own experience, I cannot agree enough with this advice, especially avoiding an entirely uppercased script engraving. Whether you are engraving initials, a name, or a personal message, all caps script looks oversized at best and illegible at worst.
4.) Keep personal messages relevant to the nature of your relationship
When selecting a special message or quotes for your engraved gifts, avoid any language that reflects intimacy.
What are your interactions with your giftee? Why are you giving them this gift?
If you are giving the gift for an occasion such as a retirement, career milestone, or work anniversary, cater your message to the time they have spent at the company, thanks for their efforts, or simply acknowledge the occasion.
For business clients, keep your message on brand for your business. Acknowledge a special project or contract.
5.) Double check your abbreviations
If you are getting name with titles or abbreviations custom engraved, make sure you have the correct titles for the person with the right initials in the proper ordering.
Here is a list of common abbreviations that might help you out.
6.) Company logo engravings for buying in bulk
If you are buying engraved gifts for multiple people like members of a department, people working on a specific project, or potential clients you are courting, company logo engraved gifts might be the perfect solution.
It communicates exactly what brought you together and what you have in common.
It can also be paired with a text personalized engraving like a name, initials, or a short message for another custom touch.
The simpler your logo design, the more visually appealing it will be when paired with a secondary engraving so choose your rendering wisely.
Personal Engraving Etiquette
The etiquette for custom engraving for your personal relationships will be much looser than the professional side of things.
The goal of personal engraving etiquette is to find the words or symbols that properly communicate the feelings you want to share with your loved ones.
For engraved gifts to family, friends, or closer relationship, the key is to really think through the content you are getting laser engraved versus how you engrave it.
1.) Always personalize to the individual
When giving to someone you care about, its always best to tailor the personalized engraving to the person specifically, even when buying multiple gifts.
For example: if you are buying custom engraved gifts for the groomsmen at your wedding, avoid just the title of your wedding (like Smith and Logan Wedding 2019 or your wedding hashtag). Opt for a memory with each friend like nicknames or a word or symbol that reminds you of them.
Are they your best friend? Dad? Mother? Are you particularly close?
In most instances, this is probably not the time to get Di Nardo Family Christmas (unless your getting pens for the whole family and you all really love acknowledging your Christmas times).
2.) Choose your words carefully
Are you a poet and you didn't even know it?
I am obviously not. I may in fact be one of the worst rhymers in the history of the English language. If you are like me its probably best to go with someone else's words for your love message engravings.
Most custom engraving has very limited character counts (you can only engrave so much). 30-70 characters would be a generous average depending on the item laser engraved.
Make sure to say what is true and means a lot without wasting words.
3.) Avoid cliches
Some phrases are lovely facts that aren't cliche no matter how much you use them ie: I love you.
Some phrases look like you read a 14 year old's diary ie: Love means never having to say you're sorry. (that works for about two seconds...) or Time heals all wounds engraved on a watch (ouch.)
If you are opting for a commonly used phrase, make sure it is meaningful to you and your recipient and doesn't clash with your engraved gifts.
4.) Handwriting Engraving
This is a little thing that can make a big difference in turning a personalized gift into a keepsake or heirloom. Handwriting engraving is hands down my personal favorite.
Handwriting engraving takes a piece of handwriting and engraves it directly onto the item. It could even be a small doodle, symbols, or drawings (like a little heart done by a young child).
These kinds of engravings are sentimental in just the right way and are the most personal form of engraving possible.
In short, this personalized engraving is one to remember.
Final Piece of Advice: Check. Your. Spelling.
This applies to professional and personal engravings and is the BIGGEST issue I see with personalized engraving.
You think its bad on a Starbucks cup...imagine it on your permanently engraved gifts.
Always double/triple check the spelling of your engraving. Whatever you send to the engraver, they will engrave, even if you spell it incorrectly.
Custom Engraving Ideas aka what do I actually put
Now that you have the etiquette for personalized engraving in your mind, I'm going to throw out some ideas for what to get engraved on your personalized gift in 2023. For a list of 277 engraving quote ideas, check out Michael article!
I am going to stick more with general ideas and suggestions with some personal favorites I've seen through the years.
Professional Engraving Ideas
If you decide to get something other than just a name and company logo or are looking for something to add onto the name:
Engraving ideas for Realtors, Contractors, Architects, or Closing Lawyers
The buyer's name followed by their new address (John Smith 746 Geraldine Way)
Homeowner
Welcome Home
Happy Closing
Sign on the dotted line
Engraving ideas for Doctors, Nurses, Veterinarians, EMTs, etc.
To your health
Thank you for your work
You saved my life.
Dr. Smith (insert name): At your cervix
Engraving ideas for Bosses, Business Owners, and Managers
It's a pleasure working for you
10 years of service
Thanks for hiring me
I'd like Christmas off
Engraving ideas for Scientists
Engraving ideas for Teachers, Educators, or Professors
Thank you for your inspiration
Learn what you love, and everything else.
You have taught me so much
Engraving ideas for the Zombie Apocalypse
Just run faster than Kevin
Stay inside
The doomsday preppers were right
Professional Signature Engravings
The handwriting engraving is still a great option for professional engraved gifts. Instead of handwriting engraving, it can also be called Signature engraving.
Get the signature of the boss, doctor, or lawyer who will receive your gift.
Or! Get the signature of the person who is their inspiration or favorite historical figure like this one of Dwight D Eisenhower.
 Big caveat on this one. Signatures of historic or public figures are only public domain after they have passed away at least 50 years ago. If the signature is before that date (1972 or sooner) it is copy written and cannot be engraved by a business.
Personal Engraving Ideas aka custom engraving for the people you love
You know who these people are. You love 'em. Find what's best for them.
Engraving ideas for a spouse, partner, boyfriend, or girlfriend
The latitude and longitude of where you met, where your wedding happened, got engaged, had your child, shared your first date, bought your first house. Is there a romantic location you want to remember with them? Here's a neat lil' secret way of sharing it. This is particularly sweet on a piece of jewelry like a ring.
The name of a movie, book, author, or serious that you both love. If there quotes or small phrases that you reference together, even better!
Inside jokes or phrases. For instance: my husband and I both heard our 7 month old son make a noise that sounded shocking like "My back hurts!" It's a running joke that always makes one of us laugh.
Engraving ideas for a best friend, maid of honor, best man, or wedding party
Inside jokes are always another go to for this one.
Do you have a secret handshake? No? Make one. and then use emojis to engrave it
Hashtags can be a clever medium for this one. #bestfrand4lyfe #nocap
Engraving ideas for a dad, mom, godparent, or miscellaneous close family members or loved ones
Best dad forever!
Quotes or phrases they always say. (My dad always likes to give his parting advice "if you get hungry, eat something!)
Come home!
Here I would highly recommend a handwriting engraving, especially of a doodle or something. Find an old stick figure drawing you did as a kid for the person and have that engraved.
Engraving Poetry (especially on personalized jewelry)
Engraving poetry can be a great way of communicating your love without getting into cliches. If you aren't naturally good at poetry, here are some recommendations for people to peruse:

Conclusion
I'm sure I am not alone in the terrifying void of realizing you need have the perfect engraved gifts for someone but not know how to personalize it just to them.
Whether buying for someone in your office or in your home, I hope this article helped you with the do's and don'ts of getting personalized engraving for whoever the special person is.
At the end of the day, remember! You have already gone the extra mile to make their gift memorable. Don't stress too much. Use this article as a guideline. And enjoy the process. I'm sure they are going to love it.
If you have any questions or ideas for the perfect engraved gift, leave a comment below!
Sam DiNardo

Sam Di Nardo is the Lead Blogger at Dayspring Pens where she has become an expert in all things ballpoint, rollerball, and fountain pen. Her current fountain pen favorite is the Franklin Cristoph Model 20 Marietta. She lives in Virginia with her husband and their growing family. Learn more about Sam's Bio.