Custom Engraved Handwriting Tips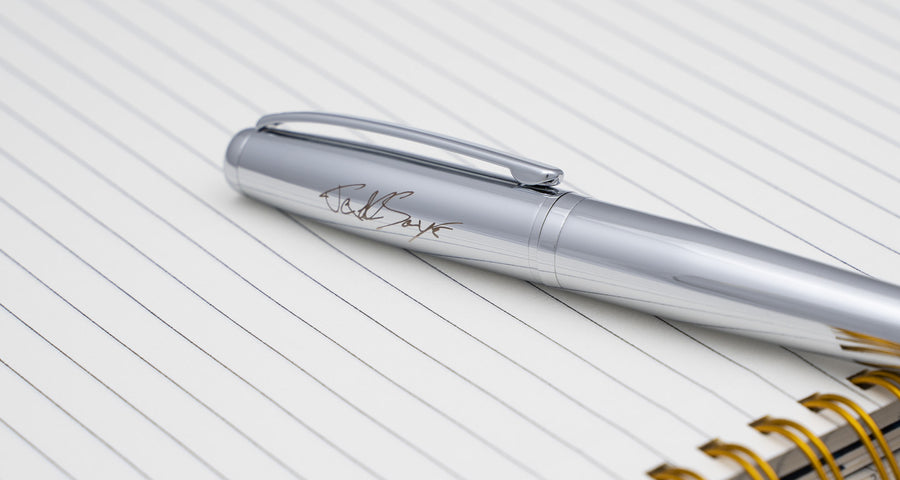 Custom Engraved Handwriting Tips
1. Make sure to write with dark ink against a white surface.
Write with a pen or marker that has a thick, dark line against white paper.
2. Avoid lined paper.
The lines may make it difficult for the engraver to properly render your custom handwritten engraving.
3. Engrave a little doodle or child's drawing.
Handwriting engravings don't have to just be writing. They can include little simple drawings as well. Imagine gifts of jewelry with your son's drawing of the family for Mother's Day.
Why to Get Engraved Handwriting on Your Pen?
If you already know what engraved handwriting is, you're either curious about whether it's a good option or are looking for ideas on what to get and how.
Either way, welcome to one of my most favorite types of personalization.
I love handwritten engraving. I love it on jewelry like necklaces, bracelets, rings... I love it on pens and journals....pretty much on anything.
In this article, I'll share with you why I love it and give you some helpful tips on what to get.
Let's jump right in!
The Ultimate Uniquely Personalized Gift
The joy of a handwriting engraving is that it takes a piece of you or your loved one's actual handwriting and immortalizes it on an object.
No two handwritings are exactly the same.
Because of this, handwritten engraving means that each piece of handwriting you have engraved will be unlike any other.
It is truly special, customized to each person.
A Permanent Keepsake
The really nice thing about engraving is that it is permanent; it doesn't fade with time or scratch off. (I mean if someone wanted to take a file and really work at the engraving it would scratch off, but you know what I mean.)
Engraved handwriting makes any item a personalized keepsake forever.
I personally used handwriting engraving for a keepsake for my husband when we had our first child. For his first Father's Day, I engraved a Waterman Hemisphere Rollerball with Happy Father's Day and a little stick figure of a baby.
Perfect for Memorial and Sympathy Gifts
When I was an engraver for Dayspring Pens, a customer called to order 6 pens with a handwriting engraving. He said that his mother had just passed away and he wanted to give a pen with her signature engraved on it to each of his siblings at the funeral.
I don't know if pens had a special significance to their family or if the customer just wanted a gift that had a functional purpose, but either way the end result was a little memory of their mother they were able to encounter every day.
Memorial gifts help us to remember loved ones who have passed and keep that reminder with us.
Imagine having your father's handwritten message "I love you" or a partner's note of encouragement. It is the best kind of sentimentality. The kind that keeps us grounded in the people who form us.
As Intimate or Professional a Gift as You Want
Maybe you aren't looking for a special message engraved in your handwriting expressing your undying love on a heart-shaped necklace your grandmother saved on her perilous journey on the Titanic.
Don't feel like handwriting engravings are off the table for your gift giving needs.
Engraved handwriting can be an incredibly professional gift as well as a thoughtful one.
Another name for engraved handwriting is signature engraving. You can easily have the signature of a retiring boss or co-worker without the gift coming across as oddly personal, especially if using their signature is a large part of their profession ie: lawyers, doctors, CEOs, notaries...
The key to using handwritten engraving for a professional gift is in 1.) the gift you choose and 2.) the message you have engraved.
If buying for a coworker, boss, client, or a graduate, consider purchasing something like a pen, a journal, or a desk set. You will want a gift that communicates functionality and luxury without the intimacy of something like jewelry (unless your boss has an insane collection of gold necklaces. To each their own.)
I would also recommend moving away from a personalized message as the engraved handwriting and stick more with signatures.
Don't have their signature?
Signatures from the Past
What about having the signature of someone's most loved author or favorite founding father? Think of who inspires them or who they remind you of and engrave that signature.
Any signature of a historic figure over 50 years old is considered public domain. This means that you do not have to have copy write permission to use the signature for engraving.
Here are some examples of really awesome Historical signatures that are available in the Public Domain:
Charles Dickens
F. Scott Fitzgerald
Fredrick Douglass
George Washington
Alexander Hamilton
Marie Curie
File Formats
Please upload the signature as a PDF or JPG image.
For best results, we recommend scanning the image in a high resolution of at least 300 dpi. The better the file quality, the better your resulting decoration.
Please use an unlined, white background for your signature.
How to Order
Find the pen style that you would like to purchase and select, "Engraved Handwriting" as the Personalization Style.
Upload the relevant art file and add the item to you cart.
Proceed to Checkout.