7 Best Luxury Pens for Note Taking: Workflow for Classes and Meetings (2023)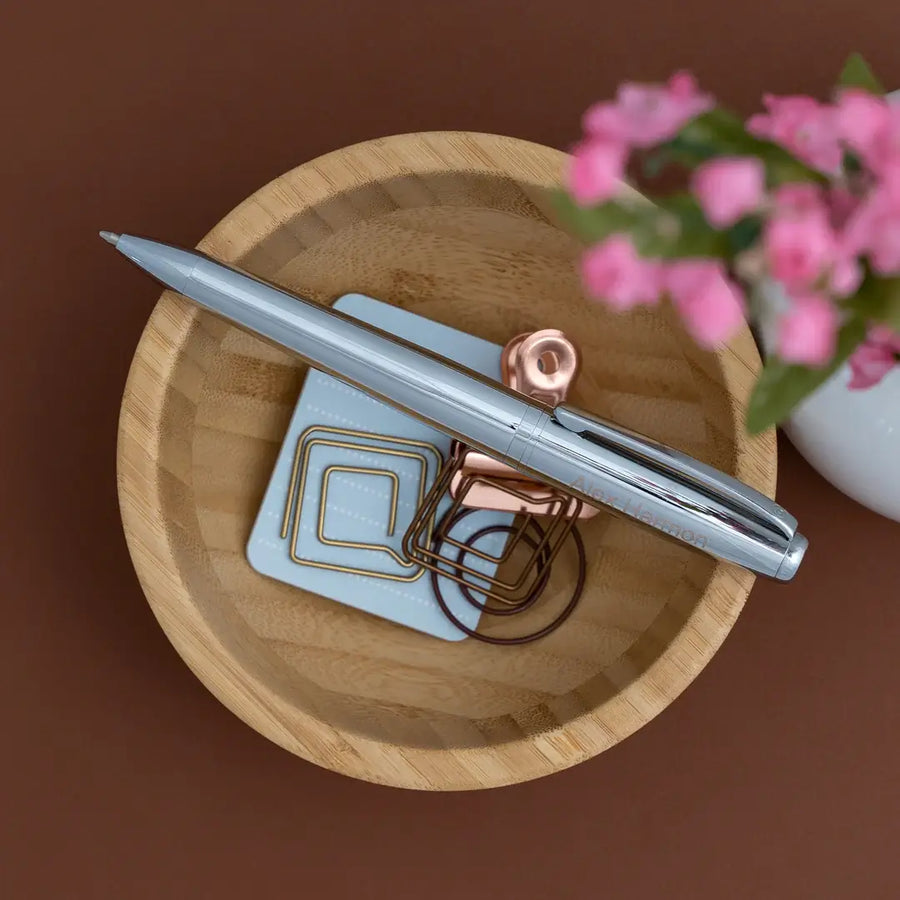 7 Best Luxury Pens for Note Taking: Workflow for Classes and Meetings (2023)
At Dayspring Pens, we're big fans of taking notes by hand. However, the pen you use can make or break your experience.
In fact, studies show that using pens for note taking rather than using a computer increases your capacity to recall information. 
It makes sense: writing is a more involved and complex activity than typing on a keyboard.
But if you're like us, you don't want to just use any old pen. You'll need something a bit more sturdy and permanent than a plastic Bic pen. 
That's why we've put together this list of the best luxury pens for note taking. 
Let's take a look!
The 7 Best Pens for Note Taking
What are the best luxury pens for note taking?
Here's our shortlist:
But let's take a closer look at each of these pens one at a time!
The Parker Jotter is a classic pen (You've probably seen it once or twice in one of your favorite movies or tv shows). 
But what makes this pen so great for note taking is its size, weight, and click-action.
It's on the shorter side of pens, so it feels like a pen you can really get to scribbling fast with.
Additionally, it's really lightweight being made of mostly stainless steel. Also it has a really nice solidity with zero rattle like most other click pens.
And the click is just really satisfying if you're compulsive like me. 
I mean, it's in the name.
One of the newest additions to the Dayspring Pens line, the Richmond combines a slimmer barrel, streamlined aesthetics, and simple, functional mechanics.
The Richmond is really sturdy, and because it's a ballpoint it can write on pretty much any surface and won't run out of ink for a long time.
Overall, it's an affordable luxury gift pen that writes like a dream.
This pen has been all the rage lately, showing up at #1 on The Strategist's top 100 list. 
We think these are beautifully designed rollerball pens with really minimalist design that still stands out.
Additionally, they're perfectly balanced pens which makes them as fun to fidget with as they are for note taking. 
The stainless steel body gives it a really good solidity, and the twist-action mechanism is really satisfying.
Our team has fallen completely in love with Metropolitan over the last year. 
It's one of the most affordable high-quality fountain pens on the market, and it writes better than most pens that are double or triple its price. 
One of the things I really like is how springy the nib is without actually just bending right back and/or breaking. It's such a nice quality in a fountain pen and makes note taking really enjoyable.
This multi-functional twist-action pen features a black ballpoint, a red ballpoint, a mechanical pencil, and a stylus writing tip for touch screens all in one pen. 
However, the ability to switch between the black and the red pen instantly makes it perfect for grading papers or fancy note taking.
With every twist of the pen, the writing tip cycles between the ballpoints and the mechanical pencil. Additionally, the stylus can be attached to the cap end of the pen.
All this makes the Tech3+ an all-in-one pen, saving you both money and time.
The Kaweco Sport has received a lot of attention over the last couple of years.
It's a wonderfully fun pen with a lot of character and functionality.
I love the unique cap size that seems to swallow the whole pen, but gives it proper size when posted on the back end. 
Without the posted cap, the pen is quite small, but it makes for a quick, effortless little writing instrument.
The nib is really high quality, but I recommend getting the medium sized one which has a smoother draw than the small nib.
The OHTO Dude rollerball has been one of my favorite everyday carry pens over the last year.
It's got a really cool barrel design that transitions between a traditional round barrel at the back to a hexagonal shape in the center of the barrel and the cap. 
Despite its unconventional barrel shape, this pen posts its cap satisfyingly. 
Rollerballs like the Squire and the Dude are great because they have water-based ink that makes a really bold line, and they draw across the page super smoothly. 
The drawback is, unlike ballpoints, they can't write on smooth surfaces, and the ink tends to sink into the page pretty deep, so if you have thin paper, just be aware.
That said, I really love the Dude, it's easy to use and super smooth, so I'm happy to recommend it for taking notes.
Frequently Asked Questions
Why take notes by hand?
Taking notes by hand cuts out a lot of room for distractions on your laptop, phone, or tablet. Indeed, your sketchpad doesn't usually ring with notifications on the regular. Plus, taking notes by hand forces you to slow down and use your body, to think about the words you're writing down more than you would just typing. 
Studies also show that your capacity to recall information increases when you take notes by hand.
What kind of pens are best for note taking?
While I like rollerball pens because I find them smoother, I think objectively ballpoint pens are the best. They don't smudge as much as other pens, and they can write on slick surfaces.
But really, you just have to find a pen that works, that unlocks the best study habits in you. 
What's the best pen for student notes?
From the list above, I think the Baron Fig Squire is going to be a crowd favorite for students. It's just too cool and so functional.
What's the best pen for professionals? 
I think the Jotter is going to be the best move for professionals. It looks amazing, and it can absolutely floats across a page. 
However, don't take it from me. Trust the two greatest corporate professionals on TV: Don Draper and Dwight K. Schrute, who are both Jotter users.
Select Your Preferred Pens for Note Taking
That's all for our list of the best luxury pens for note taking.
Remember! Every pen ordered at Dayspring Pens comes with free personalized engraving. 
Personalized pens make great gifts for students and professionals alike!
Before you go, tell us what pen you use for note taking in the comments below!
To see other offers from Dayspring Pens, have a look at our full collection of personalized pens!
Sam Di Nardo is an author for Dayspring Pens, where she has honed her expertise in ballpoint, rollerball, gel and fountain pens since joining the team in 2018.

From her initial role as an Engraver to becoming the Production Manager, Sam's journey has been marked by her passion for the history, manufacturing, and the unique value of gifted writing instruments.

A graduate of Regent University with a degree in English Literature and a special interest in Old Norse literature, dive deeper into Sam's world and discover why she's your trusted guide in the realm of gift pens.