The 6 Best Personalized Gifts for Bosses (2023)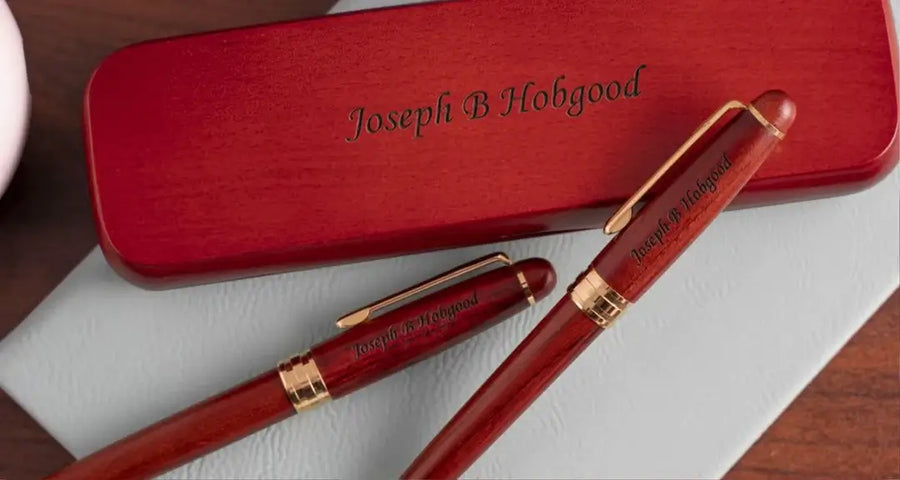 The 6 Best Personalized Gifts for Bosses (2023)
Gift giving. Some love it, others hate it, but either way, it's a part of everyday life, and it's no secret that the search for a perfect personalized gift can be challenging.
But here are a few questions to take into consideration:
Who's the gift for?
What's your budget ?
What's the occasion?
And all of the above counts even more when you're in pursuit of gift ideas for your boss.
That's why I've compiled this list of ideas that will help you choose a perfectly appropriate gift with ease.
Business Gift-Giving Etiquette
Workplace gift-giving practices differ from place to place. It depends on the corporate culture, and it's developed through time. If you're not a seasoned employee who knows all the ropes, ask around the office about how things work at your company.
Because buying a gift for:
Boss's birthday
Boss's retirement party
National Bosses Day (October 16 in the U.S.)
The holiday season, etc.
Could be perfectly acceptable at some places and a big no-no at others.
To make matters easier, take a look at the Ultimate Guide to Business Gifting Etiquette. However, if you're already an etiquette master, let's jump straight on to getting your boss that perfect gift.
How to Choose a Perfect Gift for Bosses?
So, you've decided to give your boss a gift for a special occasion or as a way to say thank you.
Maybe a bottle of fine wine along with a nice card? Sure. But is wine appropriate as, let's say, a retirement gift? And what if your boss doesn't drink?
A gift card is also something to consider, but it's a bit impersonal, in my opinion, and a funny gag gift could be somewhat too personal and inappropriate.
So is there a gift with which you can't go wrong?
Well, I think so. What does every boss need?
A perfect pen to sign deals, take notes, make a statement and never forget anything.
How to Decide on a Pen Style?
There are four basic ink styles and three main handwriting styles. Before you choose a pen, try to find out the type of pen your boss usually uses and his or her handwriting style.
Sneaky tip: Ask your boss to write a special personalized note, like a thank you card for a client or an employee and use it to check out their pen and handwriting style.
It will make your choice easier. If you need some additional help, read this practical guide on choosing a perfect pen according to handwriting style
Calligraphy and the Doodling Boss
Have you noticed that your boss doodles while on a phone call or during a meeting?
If so, before you presume that it's out of boredom with the PowerPoint presentation or lack of attention, you should know that 26 out of 46 American Presidents had that same habit.
So, it's actually a good thing?
As it turns out, yes, doodling is a great way for achieving focus, stress relief, and better retention of information.
An Analog Boss in a Digital World
If your boss lives on the precipice of an analog and the digital world, constantly on the go, shifting between jotting down notes and scrolling through a smartphone, finding a great gift could prove challenging.
But as Sonny said to Cher, "I've Got You, Babe".
Cross Tech 3+ Pen - Satin Black Finish
This all-in-one slim and stylish Cross Tech 3+ Pen in satin black finish is a true business combo. It will have your boss seamlessly twisting from a mechanical pencil to a black or red ballpoint and back, no matter the task.
And when needed, it conquers digital screens with its practically placed stylus.
To add the final twist to this gift idea, consider engraving it with a motto or a signature.
Gift Ideas for the Scholar Boss
Sometimes the best way to go about choosing a gift is to look at the surrounding decor of the person you're gifting.
If your boss enjoys wood tones and has an office that resembles John Keating's study from the movie Dead Poets Society more than a typical workplace office, look no further.
Desk Name Plate — a Detail That Stands Out
A nice addition to the Woodmark Pen decor that your scholar boss will definitely appreciate and have great use for is a Woodmark Rosewood Desk Name Plate with a business card holder, and engraving included.
Personalized/Engraved Woodmark Rosewood Desk Name Plate with Business Card Holder
It will make your boss's office desk look even more professional, and it's a practical way to keep business cards handy.
Pen Sets — Great Retirement Gifts for Your Boss
Two is better than one, and pen sets are a great two-in-one present combo that can be an appropriate retirement gift for your boss.
The engraved Waterman Hemisphere Fountain & Rollerball Pen Set is one I would choose for such an occasion.
This combination gives you the best of two pen style worlds. You have the timeless luxury of a high-quality fountain pen and the benefit of the smooth writing experience of a rollerball, together with a three-year Waterman warranty against defects or workmanship.
Not to mention this could be a way to decide on a pen without investigating the handwriting style of your boss, as we mentioned earlier.
Choose this set, and you'll cover all the bases.
Journal Gift Set — The Perfect Match
No matter if you work for a fierce boss-lady or if your boss is a guy's guy type, any of these gift ideas will work. But if you're looking for a unique gift for the woman in charge, then may I suggest the Dayspring Pens A4 Leather Padfolio and Pen Set.
Dayspring Pens A4 Leather Padfolio and Pen Set
Its simple and elegant design can be personalized with engraving on both the padfolio and pen. The portfolio has a practical pen holder in its binding, and the Blue Abingdon Rollerball Pen has black liquid ink inside the pen.
With this gift, your boss will go nulla dies sine linea, which is Latin for not a single day without a line (written).
Find the Write Gift for Your Boss
Good bosses deserve to be appreciated, but it can be hard to find a gift that's unique without getting too personal.
The above ideas and others from the Dayspring Pens collection are just the right mix of thoughtful and conventional—there's no better way to say thank you.
Find one that's perfect for your boss today, whatever his or her style.
Sam Di Nardo is an author for Dayspring Pens, where she has honed her expertise in ballpoint, rollerball, gel and fountain pens since joining the team in 2018.

From her initial role as an Engraver to becoming the Production Manager, Sam's journey has been marked by her passion for the history, manufacturing, and the unique value of gifted writing instruments.

A graduate of Regent University with a degree in English Literature and a special interest in Old Norse literature, dive deeper into Sam's world and discover why she's your trusted guide in the realm of gift pens.